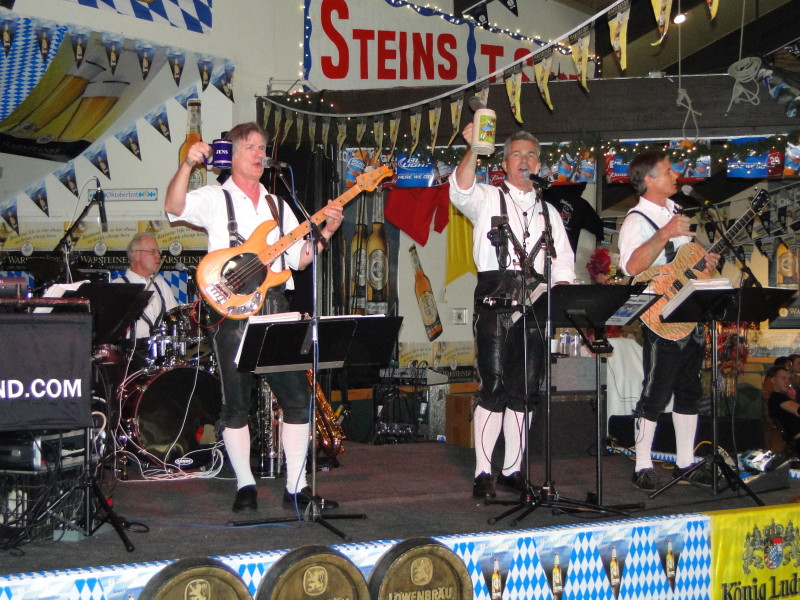 LATF at 2013 Oktoberfest
The 44th Annual Big Bear Lake Oktoberfest is on its way; celebrating German-style excitement for seven straight weekends with more German flare than ever before. This year, Big Bear Lake Oktoberfest presents not one, but two German bands on the second, third and fourth weekends of the seven-weekend stretch that starts September 13th and ends October 25th.
Each band performs traditional polkas and sing-alongs mixed with today's hottest dance hits. The Goldeizen Band, an eight-piece band that hails from Bavaria, performs September 20, 21 and 27. The Goldeizen Band has gained the attention of its fellow countrymen when it was nominated in 2013 for the Best Oktoberfest Hits CD produced by the world-renowned Munich Oktoberfest. The Aalbachtal Express, also from Southern Germany, performs September 28, October 3, 4 and 5. This 11-piece band has played together for 35 years strong, and has grown a solid reputation throughout Europe for its authenticity and upbeat live shows. The Express Band, Southern California's premier German band perform the first weekend (Sept. 13-14) and final two and a half weekends (Oct. 11-12, 18-19, and 25). Each band slated to perform at Big Bear Lake Oktoberfest plays a unique blend of traditional German polkas and American pop music. 
"It's the bands that really bring a feel-good vibe to our Oktoberfest," said Monica Marini, director of The Convention Center at Big Bear Lake. "This is the first time that we'll have two different bands from Germany performing in the same year. It gives our patrons an opportunity to see two different versions of authentic German music. Of course, our local Express band knows a thing or two about traditional German song and dance too, and they always get the dance floor moving!"
In addition to the main stage inside the Convention Center is an outdoor stage in the Spaten Bier Garten called Spaten Rocktoberfest Stage. The stage was added to give festival goers more entertainment and keep a lively atmosphere throughout the festival grounds. Also, it now provides an extra stage for log sawing and stein holding contests.
Fun competitions and contests at Oktoberfest include log sawing, stein carrying, shoot & yodel, a version of beer pong, sausage eating, stein holding, and limbo dancing. Children's fun and games include pretzel eating contests, kiddy mug holding matches and Midway carnival-style games. The Chicken Dance is the definitive favorite dance at Oktoberfest and always amusing. Every weekend expect to see a huge dance floor filled with hundreds of revelers clucking away to the Chicken Dance.
Big Bear Lake Oktoberfest once again goes "Unplugged" for one Friday night in October. This special event give patrons an inside look at the early days of Big Bear Lake Oktoberfest and its 44-year old history through storytelling and song and dance. The intimate Friday evening event presents a fine dining experience with a five-course German dinner paired with a variety of German beers and spirits. Oktoberfest Unplugged includes traditional German polkas and sing-alongs as well as amusing storytelling by Oktoberfest founder/ Über -Burgermeister Hans Bandows and other Oktoberfest personalities. The Friday evening Oktoberfest Unplugged date is Friday, October 17. The cost is $97 per person, which includes a five-course pairing meal, entertainment, a commemorative one-liter dimple stein, and free admission for the Saturday and Sunday Oktoberfest celebration.
The Big Bear Lake Oktoberfest begins Saturday, September 13 and runs for seven consecutive weekends through Saturday, October 25, 2014. The weekend festivities take place at The Convention Center of Big Bear Lake located at 42900 Big Bear Blvd. Big Bear Oktoberfest kicks off with American's Hero weekend on Saturday, September 13 offering free admission for all past and present military, fire fighters and law enforcement. The first three weekends (Sept. 13-14 to Sept. 27-28) general admission on Saturdays is $14 for adults, $10 for seniors (65+), and $8 for children 12 and under; Sunday admission prices are $7 for adults, $5 for seniors with children 12 and under FREE. The next four weekends (Oct. 4 to Oct. 25) general admission on Saturdays is $18 for adults, $14 for seniors (65+), and $8 for children 12 and under; Sunday admission prices $9 for adults, $5 for seniors with children 12 and under FREE. Oktoberfest Unplugged events on October 17 are $97 per person. For more details regarding online ticket savings, Burgermeister and Über Burgermeister Party Packs, Kindermeister Party Packs (kid's fun packs) and general information, log on to www.BigBearEvents.com or call 909-585-3000.  
For all there is to see and do in Big Bear, make lodging reservations or request a free Visitors Guide log on to www.bigbear.com or call 800-424-4232.