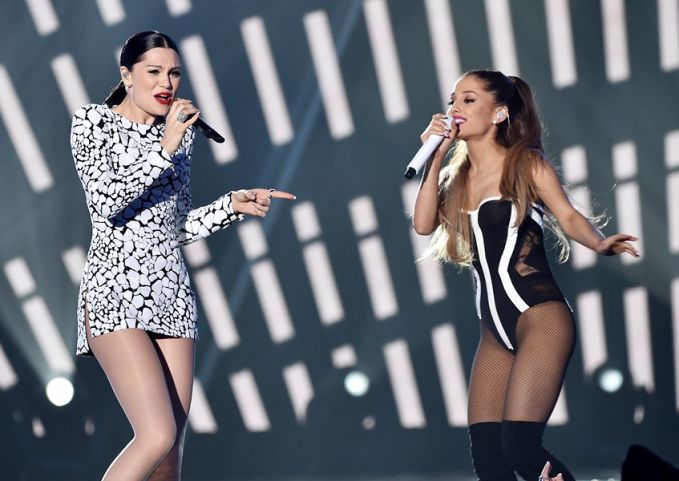 Photo: Getty Images via http://www.mtv.com/
It has been one year since Miley Cyrus brought her infamous "twerk" to the stage at the MTV Video Music Awards. Nicki Minaj proved that the twerk has not died, opening the 2014 VMAs with just as much booty shaking (some we could have done without) during her "Anaconda" cover. Minaj started the show with Ariana Grande and Jesse J, singing their new hit, "Bang, Bang." The theme of the night was clear, from the Trojan commercials to the shining chains, stage humping and Vine sharing: Bling, booty and social media.
The night continued with a lot of booty and bling. "Saturday Night Live" star, Jay Pharoah acted as a pseudo host throughout the evening; imitating artists such as Jay Z and Kanye West. Most of his comedy proved to be less than entertaining.
There were some thrilling performances with great production from Usher, Taylor Swift and more throughout the evening. At the end of the evening, Beyonce brought husband Jay Z and daughter Blue Ivy on to the stage as she accepted the Michael Jackson Video Vanguard Award.
VIDEO OF THE YEAR: Miley Cyrus, "Wrecking Ball"
BEST FEMALE VIDEO: Katy Perry feat. Juicy J, "Dark Horse"
BEST MALE VIDEO: Ed Sheeran, "Sing"
BEST POP VIDEO: Ariana Grande feat. Iggy Azalea, "Problem"
MICHAEL JACKSON VIDEO VANGUARD AWARD: Beyonce
BEST HIP HOP VIDEO: Drake feat. Majid Jordan, "Hold On, We're Going Home"
BEST ROCK VIDEO: Lorde, "Royals"
ARTIST TO WATCH: Fifth Harmony, "Miss Movin' On"
BEST LYRIC VIDEO: 5 Seconds Of Summer, "Don't Stop"
Complete list here: