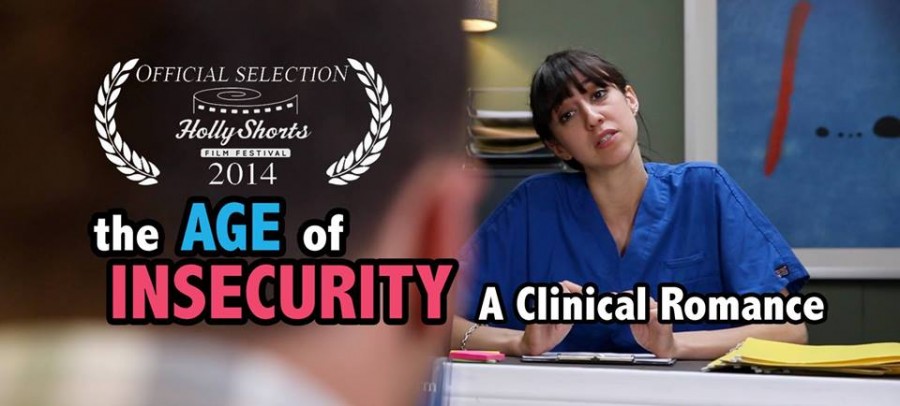 Best Web Series winners: A Clinical Romance: The Age Of Insecurity by Adriano Valentini
The 2014 HollyShorts Awards were announcedduring a special standing room-only reception at the Roosevelt Hotel in Hollywood, home of the 1st Oscars ceremony. The evening was hosted by Alicia Malone and Amy Paffrath. At the top of the show, festival founders announced the 11th annual HollyShorts will take place August 13-22, 2015 in Hollywood.
The event kicked off with Felicia Day being presented with the inaugural HollyShorts 2014 Digital Icon Award in front of the audience, which consisted of 1,000 filmmakers from the festival, industry professionals and short form content enthusiasts.  Company 3 Awarded $40,000 in production prizes and Method Studios presented a $10,000 VFX prize.  The coveted Best Short Film Award went to Francois Jaros for TOUTES DES CONNES (Life's A Bitch), with the win Jaros took home a $15,000 production prize from Company 3. Best Director went to Una Gunjak for THE CHICKEN. Gunjak took home a $10,000 prize from Company 3.
 
The Method Studios Best VFX Award went to LOOKING PLANET by Eric Law Anderson. Best Music Video went to Jacob Lundgaard for AS LONG AS YOU WATCH MY HEART. Best Cinematography went to THE LANDING by Josh Tanner.  Best Animation went to INTERVIEW by Mikkel Okholm. Best Comedy went to #TWITTER KILLS by Brett Sorem. Best International went to KOSMODROME by Youcef Mahmoudi. Best Horror went to DRUDGE by Kheireddine El-Helou. Best Documentary went to HERD IN ICELAND by Lindsay Blatt. The Panavision Future Filmmaker Award went to Douglas Jessup for GLOW. Best Student went to SWEET CORN by Joo Hyun Lee
HollyShorts also presented the winner of it's first ever screenplay competition. Mimi Jeffries took the top prize for her short script OPEN ROADS. With the win, Seattle-based production company Evil Slave has optioned the project and will shoot the short with the goal to premiere it at next year's HollyShorts.
The festival runs through Saturday August 23. There is still one additional competition to be awarded, the HollyShorts Vine competition with Eli Roth's The Crypt App, which challenges filmmakers to create scary vines and tag HSFF14, the Vine contest winners will be announced during the fests closing party on Saturday at Busby's East.
Screenplay 3rd place
GLARE / April Rouveyrol
Screenplay 2nd place
THE OLD MAN AND C SHARP / Alexander Gardels
Screenplay 1st place
OPEN ROADS / Mimi Jeffries
Best Web Series
THE AGE OF INSECURITY: a Clinical Romance / Adriano Valentini
Best Female Director
NI-NI / Melissa Hickey
Best Washington State Film
FROM 1994 / Casey Warren & Danielle Krieger
Best Editing
ON/OFF / Thierry Lorenzi
Best Score
TODAYS THE DAY / Daniel Campos
Honorable Mention
THE EARTH, THE WAY I LEFT IT / Jeff Pinilla
Honorable Mention
THE LEARNING CURVE / Phil McCarty
Special Jury Mention
APP / Alexander Berman
Best 3-D
THE CHAPERONE / Fraser Munden
Best Action
PROFESSIONAL CONDUCT OF BEING AN ELITE SPY / Matt Wells
Best Sci-Fi
DISTANCE / Aimee Long
Best Narrative
KRISHA / Trey Edward Shults
Best Producer
PLEASE HAND STAMP / Jeff Jenkins
Best Actor
CHECK PLEASE / Jared Ward
Best Actress
GLINDA / Tovah Feldshuh
Best Animation
INTERVIEW /Mikkel Okholm
Best Comedy
#TWITTER KILLS / Brett Sorem
Best International
KOSMODROME / Youcef Mahmoudi
Best Thriller
NO COMPANY / Benjamin Morgan
Best Horror
DRUDGE / Kheireddine El-Helou
Best Documentary
HERD IN ICELAND/ Lindsay Blatt
Best Drama
QANIS/ Reda Mustafa
Best Student
SWEET CORN/ Joo Hyun Lee
Panavision Future Filmmaker
GLOW/ Douglas Jessup
Best Music Video
AS LONG AS YOU WATCH MY HEART/ Jacob Lundgaard Andersen
Best Commercial
WARRIOR CAT SPEC / Douglas Cushnie
Best Cinematography
THE LANDING / Josh Tanner
Method Studios Best Visual Effects
LOOKING PLANET / Eric Law Anderson
Best Director
THE CHICKEN / Una Gunjak
Best Short Film
TOUTES DES CONNES/LIFE'S A BITCH by Francois Jaros