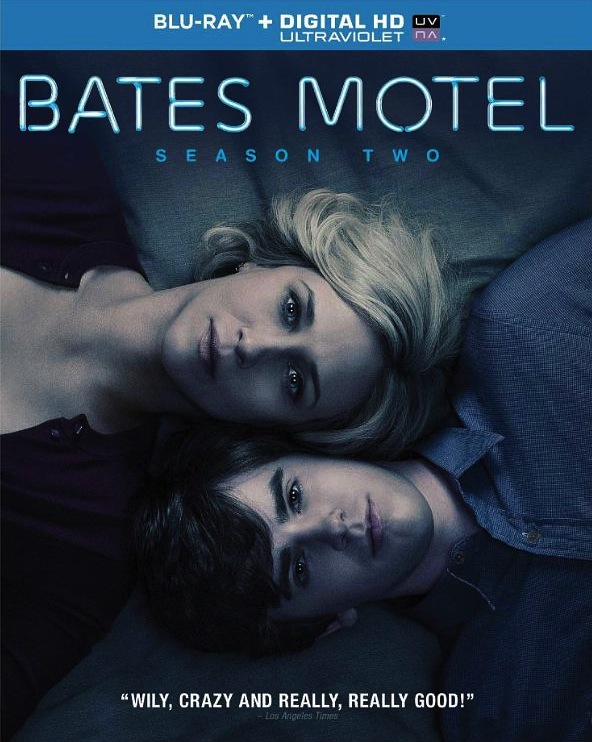 The Bates Motel has vacancies and welcomes you for a second season, starring Academy Award-nominated actress Vera Farmiga (Up in the Air) and Freddie Highmore (Charlie and the Chocolate Factory). "Bates Motel": Season Two will be available to own on Blu-ray with Digital HD including Ultraviolet and DVD on October 7, 2014 from Universal Studios Home Entertainment.
In the aftermath of Miss Watson's (Keegan Connor Tracy, "Once Upon A Time") murder, Norman's (Highmore) innocence is buried under blackouts, suspicious characters, and his strange behavior. Meanwhile, Norma (Farmiga) faces dark truths of her own when family secrets begin to unravel and looming threats from local villains jeopardize Norma's stab at happiness.  No matter where you turn – there's no escaping what bubbles beneath the surface of White Pine Bay.
The producers of "Lost" and "Friday Night Lights" continue the "delirious allure" and "fresh 'n' creepy" story of Norman Bates, a character re-imagined from one of Alfred Hitchcock's masterpieces "Psycho," with more unexpected twists, deception and murders (TV Guide and Los Angeles Times).
A production of Universal Television, "Bates Motel": Season Two also stars Nestor Carbonell ("Lost"), Max Thieriot ("House at the End of the Street"), Olivia Cooke ("Ouija"), and Nicola Peltz ("Transformers: Age of Extinction").
Be sure to watch more drama unfold with season three on A&E in 2015.