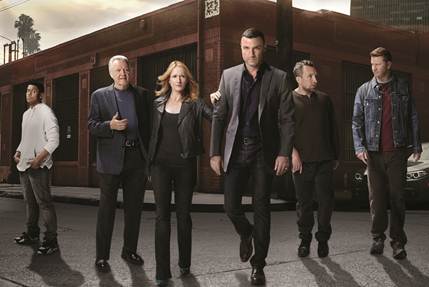 Showtime will present full season catch-up marathons of its highly-anticipated drama series "Ray Donovan" and "Masters Of Sex" during Fourth of July weekend, ahead of their second season premieres on Sunday, July 13 at 9 and 10 p.m. ET/PT respectively. On Friday, July 4 and Saturday, July 5, the network will air the critically-acclaimed first season of "Masters Of Sex," followed by a marathon of "Ray Donovan" on Sunday, July 6.
Set in the sprawling mecca of the rich and famous, "Ray Donovan" stars Emmy and Golden Globe nominee Liev Schreiber as LA's best professional fixer, the man called in to make the city's celebrities, superstar athletes, and business moguls' most complicated and combustible situations go away. Season one came to a close with an epic showdown resulting in Boston mobster and fugitive, Sully's (James Woods) demise. Season two of this powerful drama, will explore the fallout of his murder for Ray, his father Mickey (Golden Globe winner Jon Voight) and the FBI, headed by LA Bureau Chief Cochran (guest star Hank Azaria). As the season unfolds, Ray continues to seek balance between the demands of his family, including his volatile relationship with Mickey, and the demands of his Hollywood clients. The cast also includes Paula Malcomson, Eddie Marsan, Dash Mihok, Steven Bauer, Katherine Moennig, Pooch Hall, Kerris Dorsey and Devon Bagby. Oscar-nominated actor Elliott Gould will return as a special guest star for season two. In addition to Gould and Azaria, season two will also feature an impressive line-up of guest stars including Ann-Margret, Wendell Pierce, Sherilyn Fenn, Vinessa Shaw, Brian Geraghty, Heather McComb and Kip Pardue. The network's highest-rated freshman series ever with 5.7 million weekly viewers, "Ray Donovan" is created and executive produced by Ann Biderman. A Showtime production, the series is also executive produced by Mark Gordon, Bryan Zuriff and David Hollander.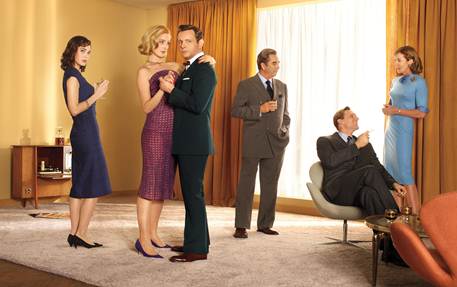 Starring Emmy and Golden Globe nominee Michael Sheen and Lizzy Caplan as real-life pioneers of human sexuality, William Masters and Virginia Johnson, "Masters Of Sex" chronicles their unusual lives, romance and pop culture trajectory. Their research touched off the sexual revolution and took them from a mid-western teaching hospital in St. Louis to the cover of Time magazine. Season one of "Masters Of Sex" received both Golden Globe and WGA nominations, was honored as one of AFI's Top Ten Television Programs of the Year, and averaged 4.8 million weekly viewers. The series is an adaptation of Thomas Maier's book "Masters of Sex: The Life and Times of William Masters and Virginia Johnson, The Couple Who Taught America How To Love." Season two also stars Caitlin Fitzgerald, Teddy Sears and Annaleigh Ashford. Season two's guest stars include Beau Bridges, Allison Janney, Julianne Nicholson, Sarah Silverman, Betsy Brandt, Keke Palmer, Courtney B. Vance, Jocko Sims, Greg Grunberg, Barry Watson, Rose McIver, Rene Auberjonois and Christian Borle. "Masters Of Sex" was developed for television by Michelle Ashford (The Pacific) who also serves as an executive producer. In addition, the series is executive produced by Carl Beverly, Sarah Timberman, Judith Verno and Amy Lippman. Miichael Apted, Michael Sheen, Tammy Rosen and Thomas Maier serve as producers. "Masters Of Sex" is produced by Sony Pictures Television.
For a complete list of replay dates and times, please visit: www.sho.com/marathon. Subscribers can also catch up on full seasons of both series on Showtime On Demand and the network's authentication service Showtime Anytime.