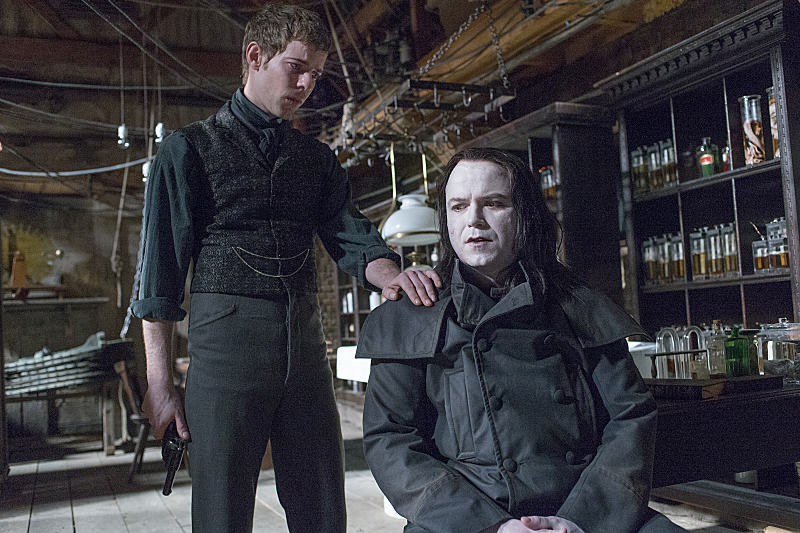 After the thrilling conclusion of its critically-acclaimed first season, the hit Showitime drama series"Penny Dreadful"will make its Comic-Con debut on Thursday, July 24th from 6:00–7:00 pm with a panel session in Ballroom 20 on the first day of the world-famous annual gathering in San Diego. Featured panelists will include series stars Josh Hartnett, Reeve Carney and Harry Treadaway and series creator, writer and executive producer John Logan, and will be moderated by Emmy Award-nominated actress and host Aisha Tyler (The Talk, Archer).
In partnership with Entertainment Earth, Titan Books and Bif Bang Pow!, Showtime will host signings at the event and offer exclusive merchandise throughout the weekend. Fans will have access to special edition books, tarot cards and character figurines inspired by the series. Fans can visit the Entertainment Earth Booth (#2343) to purchase a deluxe deck of tarot cards inspired by the ones used throughout the series, along with character action figures, including Ethan Chandler (Josh Hartnett) and Vanessa Ives (Eva Green).
Titan Books has published special editions of the classic novels that inspired the series. For the exclusive Penny Dreadful Collection of classic horror novels including deluxe hardcover editions of Mary Shelley's Frankenstein, Bram Stoker's Dracula and Oscar Wilde's A Picture of Dorian Gray, which each contain original black and white illustrations by Martin Stiff, Louie de Martinis and Ian Bass, visit Titan's booth #5537. In addition, the over 150,000 lanyards worn by all Comic-Con attendees will be branded by Showtime and "Penny Dreadful."
The"Penny Dreadful"panel will be moderated by Emmy Award-nominated actress, comedian, author and podcaster

 

Aisha Tyler. Tyler is currently a co-host of CBS'

 

The Talk and the host of

 

Whose Line Is It Anyway?

 

She also voices the character of sexy superspy Lana on the hit animated series

 

Archer. Her other television credits include

 

Friends, Talk Soup,

 

Ghost Whisperer, CSI,

 

24,

 

Nip/Tuck, Reno 911

 

and

 

Curb Your Enthusiasm,

 

and film roles include

 

Bedtime Stories

 

and

 

Balls of Fury. Tyler is the creator and host of the award-winning podcast,

 

Girl on Guy

 

– which has had over nine million downloads since its inception in 2011. Chosen as a best new comedy podcast of 2011 by iTunes,

 

Girl on Guy

 

is a show about stuff guys love, brought to you by the ultimate guy's girl, where Tyler interviews top actors, comedians, directors, athletes, chefs, authors and more. She is also the author of two

 

New York Times

 

bestsellers

 

Self Inflicted Wounds: Heartwarming Tales of Epic Humiliation

 

and

 

Swerve: Reckless Observations of a Post-Modern Girl.