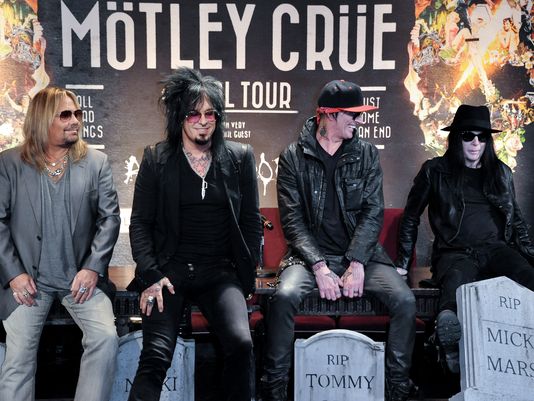 Photo Credited to http://www.motley.com/news/

Marine Veterans from Marine Corps recruiting station Milwaukee and participants in The Wounded Warrior Project will be gathering on July 4, 2014 in Milwaukee, Wisconsin at the Marcus Amphitheater to celebrate the USA and their rock heroes, Mötley Crüe at Summerfest. The members of Mötley Crüe will, in turn, celebrate the veterans' service and spend some time with them backstage at the show to thank them for their sacrifices. 
This date is one of the first of the first leg of the band's "Final Tour," which will hit 72 markets this summer throughout the US. The tour-opening venue, Van Andel Arena in Grand Rapids, MI, will be making a special donation in the band's name as a 'thank you' for opening "The Final Tour" there to The Wounded Warrior Project.
The Silver Star Families of America (SSFOA) is also proud to announce Mötley Crüe as the 2014 recipient of the prestigious SSFOA Commendation Award.  A non-profit based out of Clever, Mo., the SSFOA's primary mission is to support and recognize veterans who are wounded, injured, or have acquired an illness related to their service in a combat zone regardless of service branch or military conflict. The SSFOA board chose Mötley Crüe to receive this year's honor for the band's unwavering support of the military community through hosting private concerts for veterans and the donation of considerable funds to charitable organizations that assist returning servicemembers in finding employment and, which provide emergency financial assistance to families of servicemembers and wounded troops. The physical award will be presented at the band's show in Maryland Heights, MO on July 9.
For more details, visit Summerfest.com, Facebook.com/summerfest,Twitter: @Summerfest or download the Summerfest 2014 App.