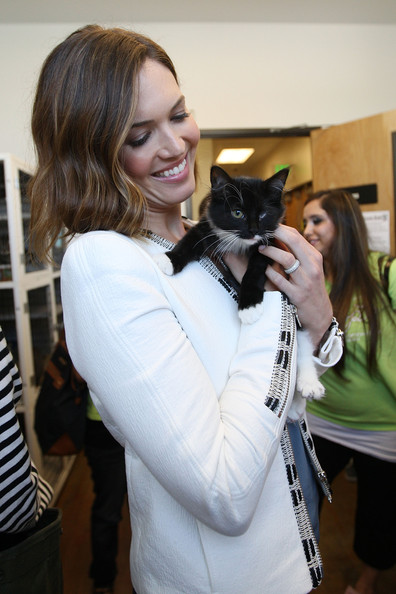 Every cat has a tale and for many, it starts at a shelter. All cats deserve a forever home where they can greet their owners at the door, bask in a sunbeam and nap on their favorite perch. Purina Cat Chow announced that through its Purina Cat Chow "Building Better Lives" program the brand will donate $275,000 to 50 shelters nationwide – one in every state – in renovation and adoption support, product and monetary donations, as well as a possible $50,000 donation to The Petfinder Foundation, for a total contribution of up to $325,000.
The Purina Cat Chow "Building Better Lives" program is committed to helping improve the lives of cats across the United States by providing high-quality, affordable nutrition; improving shelters; and finding more cats forever homes. This year, Purina Cat Chow will help support the participating 50 cat-focused shelters by:
Contributing up to

$50,000

to The Petfinder Foundation if 1,500 cat adoption stories are shared.
Conducting three shelter renovations and cat adoption events at

$50,000

apiece, totaling

$150,000.

Donating

$2,500

in cash and Purina Cat Chow brand cat food per shelter, totaling

$125,000. 
In two years, Purina Cat Chow will donate more than $500,000 to more than 100 local cat-focused shelters nationwide to help improve the lives of cats.
"With millions of cats entering animal welfare organizations each year, we know there is a lot of work to do and we're committed to supporting the shelters that care for these cats," said Vincent Biroscak, Purina Cat Chow brand director. "We want rescue cats to have a great place to live and high-quality nutrition while they're awaiting their forever homes and to provide the much-needed support to the dedicated animal welfare organizations that care for these cats."
Mandy Moore, well-known actress and singer-songwriter who is also a passionate cat owner, teamed up with the Purina Cat Chow "Building Better Lives" program to help increase cat adoptions and encourage cat people nationwide to share their cat rescue stories to support the shelters that help cats every day. Moore shares her home with four rescue cats: Theo, Vincent, Maddie and Addison as well as two rescue dogs. She is a long-time supporter of animal rescue organizations.
"I have four rescue cats and believe in the importance of supporting local animal welfare organizations," said Moore. "Everyone who has ever adopted or rescued a cat can share how it has impacted their life. Rescue cats have a lot to offer their potential adopters, and I hope these stories encourage more people to consider adding a cat to their home."