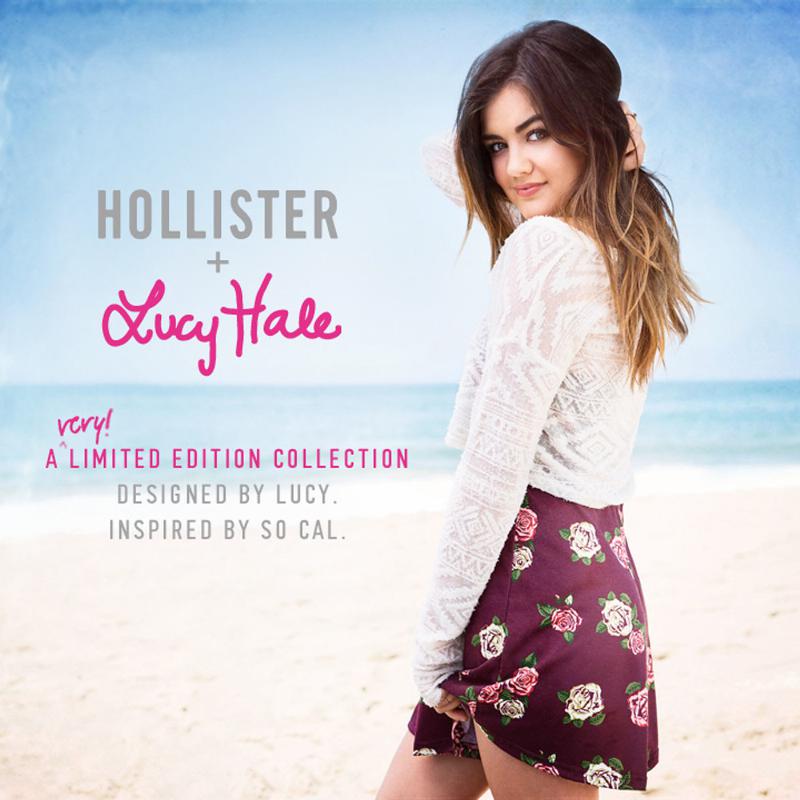 Hollister collaborates with Pretty Little Liars star, Lucy Hale. The actress/musician/fashion "It" girl put her creative talents to work and designed an all-new collection for Hollister. Lucy's collection includes soft dresses, leggings, skirts, and tops, all easy to wear with a So Cal-cool vibe. The collection will be released in two installments exclusively in Hollister stores and online at www.HollisterCo.com. The first will be released on Friday, August 8 and the second will be released on Friday, August 29.  The collection will be available for a very limited time, so line up early if you want to own a piece from Lucy's collection.
This is the first celebrity collaboration for the brand. The campaign will kick off with a performance by Lucy Hale at the Hollister House this Sunday, August 3, in Santa Monica, California.
"I am so fortunate to be working with Hollister on this collaboration. It is an exciting time for the brand and it has been an unforgettable experience being able to design quality clothes that reflect a Southern California lifestyle," said Lucy Hale.
Lucy's first installment is inspired by her off-duty style and LA's quintessential "throw-it-on-and-go" approach to fashion. It features easy-to-layer styles in cool colors that take the guesswork out of mixing and matching. The second installment, inspired by So Cal's laidback beach days and never-ending summer, focuses on supersoft separates with relaxed silhouettes.
Commenting on the design of the collection, Lucy went on to say, "I definitely lean more towards a laidback look, which makes my style a great match for Hollister. I wanted to create carefree outfits that effortlessly transition from a coffee run to going out."