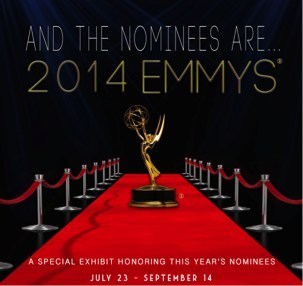 The Hollywood Museum celebrates the 66th Primetime Emmy® Award nominees with an exclusive exhibition showcasing costumes, props and more from over twenty Emmy®-nominated television programs. 'And The Nominees Are…Emmys® 2014′ will be on view at The Hollywood Museum in the Historic Max Factor Building located in the heart of Hollywood through Sept. 14. The Hollywood Reporteris the Media Sponsor.
The largest exhibition of its kind, 'And The Nominees Are…Emmys® 2014′ spotlights the best of this year's television season across multiple categories including nominees for Outstanding Drama, Comedy, Miniseries, TV Movie and Reality competition.  Featured shows include The Blacklist, Breaking Bad, Boardwalk Empire, Dancing with the Stars, Fargo, The Good Wife, Homeland, House of Cards, Mad Men, Modern Family, The Newsroom, The Normal Heart, Nurse Jackie, Orange is the New Black, Project Runway, Scandal, Sleepy Hollow, True Blood and The Walking Dead.
TV fans will have a chance to view Outstanding Lead Actress nominee Taylor Schilling's infamous prison uniform from Orange is the New Black, the bright yellow hazmat suit and gas mask worn by Outstanding Lead Actor nominee Bryan Cranston in Breaking Bad, the gorgeous strapless black and white gown worn by Outstanding Lead Actress nominee Kerry Washington in Scandal, and the beautiful period costumes from Outstanding Costume Design nominee Boardwalk Empire, among others.
WATCH THE 66TH PRIME TIME EMMYS® LIVE! MONDAY, AUGUST 25TH 8ET/5PT ON NBC