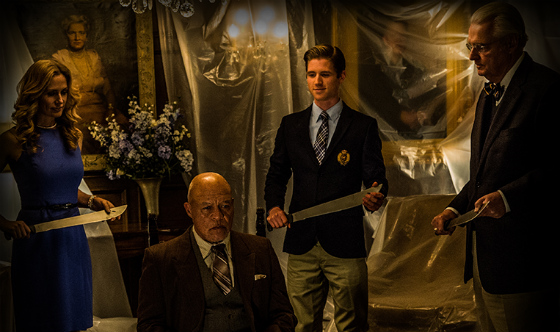 Universal Studios is already preparing you for Halloween Horror Nights. In addition to the previously announced haunted mazes, "The Purge: Anarchy," inspired by Universal Pictures' new thriller will take a place in the HHN this year.
"The Purge: Anarchy" scarezone will greet guests with pure unadulterated fear, bringing to life the turmoil and pandemonium that awaits those vulnerable to masked vigilantes in search of new victims. Reimagining the movie's premise that on one night every year, any and all crime is made legal, the scarezone will be inhabited by average citizens transformed into sadistic felons during this period of government-sanctioned lawlessness. Like civilians in the movie fighting to survive, guests will be at the mercy of cunning wit, luck and speed as they attempt to outsmart and outlive the anarchy brought about by those who believe in an "eye for an eye."
The Purge: Anarchy, the sequel to last summer's surprise hit, moves from the confines of a suburban neighborhood to the streets as the government begins its annual 12-hour Purge to ensure that the crime rate stays below one percent for the rest of the year. With all emergency services suspended, it's the one night when society regulates itself without thought of punishment or fear of retribution. For average people who do not have the means to barricade themselves indoors with a state-of-the-art security system, anarchy rules and no one is safe. In this new story, an unlikely group of five citizens discover how far they will go to protect themselves and, ultimately, each other, as they fight to survive a dangerous night fraught with impossible decisions.
"'Halloween Horror Nights' is about taking guests out of their comfort zones and placing them at the core of unimaginable horror," said John Murdy, Universal Studios Hollywood's Creative Director for and Executive Producer of "Halloween Horror Nights."  "Because the premise of 'The Purge' could theoretically happen, our scare-zone elevates that sense of fear and forces you to really watch your back.  Imagining how your neighbor, friend or enemy could take revenge on you without retribution because you wronged them takes horror to a whole new level, and we wanted to bring that gut-wrenching terror to every one of our guests."
"'The Purge'" scarezone will invade the streets of 'Halloween Horror Nights', taking up most of our New York back lot. The chaos that reigns in the film will be replicated nightly, but now our guests can actually attempt to survive the night themselves," said Michael Aiello, Director of Entertainment – Creative Development, Universal Orlando Resort. "The familiar emergency broadcast will be heard announcing the commencement of the annual Purge, and all hell will literally break loose."