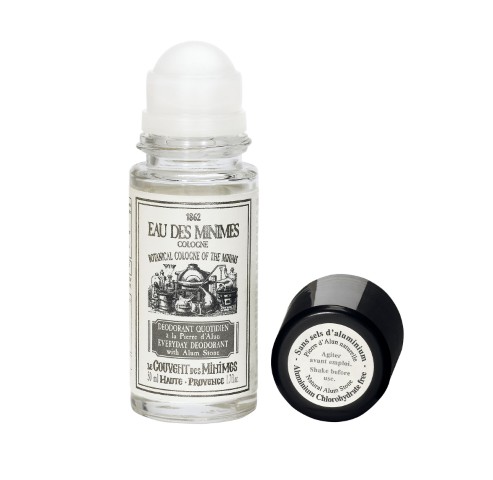 We discovered EAU DES MINIMES, a DEODORANT WITH ALUM STONE. A refreshing, natural deodorant containing Alum Stone that neutralizes body odors.
Le Couvent des Minimes Eau des Minimes is an everyday deodorant with no parabens, harsh aluminum salts, drying alcohol, or skin-restricting ingredients. Le Couvent's original, clarifying fragrance blends Citrus essential oils with soothing Rosemary for an invigorating scent that lingers all day.
This purifying original recipe was inspired by the "miraculous waters"—curative colognes first distilled in convents in the 14th century. Combining fragrant Plants, Citrus Fruit, and Eau de Vie—the water of life—these natural fragrances were the inspiration behind Le Couvent des Minimes' Eau des Minimes, the fragrance of the Everyday Deodorant.
Alum Stone  is a natural deodorant which prevents odor-causing bacteria, freshens while an original recipe of crisp Blood Orange, Lemon, and Mandarin essential oils along with purifying Rosemary leaves behind a pleasant, mood-lifting scent. Housed in a convenient roll-on bottle, the formula is easy for application on the go and  is always safe and suitable for even the most delicate skin. (1.7 fl. oz., $13.50)