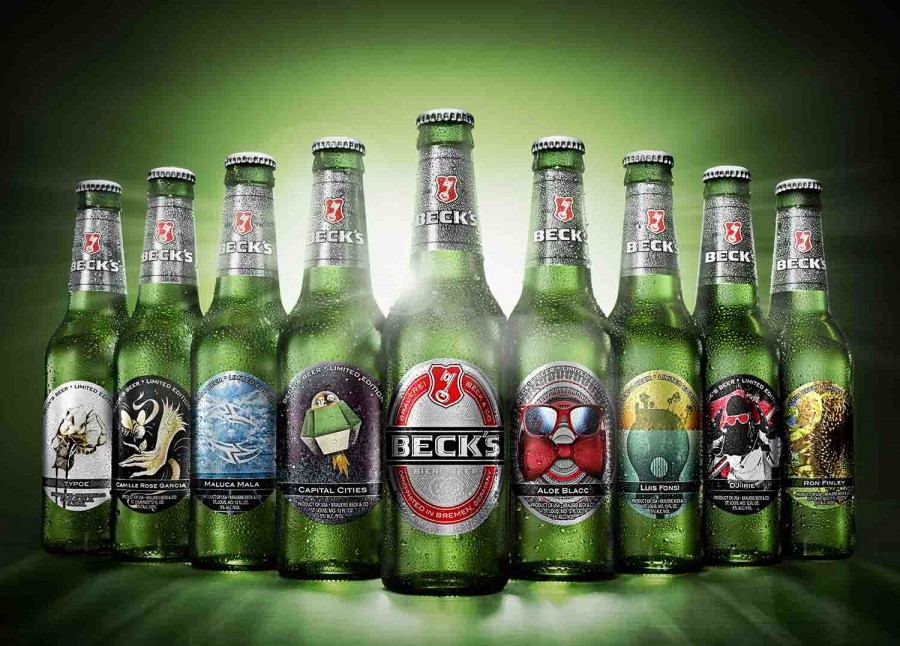 One of the best things about July 4th are the BBQ's and sitting back with an ice cold beer. Beck's Beer just launched their limited edition beer bottles in time for the holiday weekend. Indie pop sensation and LATF feature stars, Capital Cities and singer/songwriter/rapper Aloe Blacc, as well as six additional artists have taken over Beck's beer labels. 
Every year for the past 27 years, Beck's Beer commissions original artwork for the summer-long Live Beyond Labels series. The brand replaces its traditional labels with the original designs from both emerging and established artists.
"Live Beyond Labels participants tend to be drawn to the idea of reaching millions of people in an entirely new way," said Ryan Garcia, vice president, regional marketing. "The size of their audience and their creative focus differs from artist to artist. But they all share an independent streak, a fearlessness Beck's admires."
Throughout the life of the program, Beck's labels have showcased original designs from a range of creative celebrities, including Andy Warhol, Jeff Koons, Damien Hirst, Yoko Ono, MIA and Kid Cudi. The program began in the UK and moved to the US in 2012.
The 2014 roster of participants includes musicians, a DJ, a visual artist, a renegade gardener and a lowbrow artist:
Capital Cities is an American indie pop band based in Los Angeles. Formed by Ryan Merchant and Sebu Simonian, Capital Cities released their debut EP in 2011. This summer, Capital Cities will tour with Katy Perry.
Aloe Blacc is an American singer, songwriter, rapper and musician. Blacc co-wrote and performed the smash hit single "Wake Me Up" with Swedish DJ Avicii. His newest album, "Lift Your Spirits," was created in partnership with producers including Pharrell Williams, DJ Khalil and Rock Mafia. He is now on tour with Bruno Mars.
Luis Fonsi is a Puerto Rican pop singer and composer. Since debuting in 1998, Fonsi has won a Latin Grammy and been named by Billboard magazine as a "Leader of Latin Music's New Generation." His latest album, "8," was described by Billboard as a "cohesive package of truly great pop songs."
DJ Irie is a Miami-based DJ. Dubbed the "King of the South Florida party scene," Irie is the official DJ of the Miami Heat and an in-demand touring DJ.
TYPOE is a visual artist and a mainstay in Miami's thriving art scene. He is represented by Spinello Projects and is co-founder of project space PRIMARY.
Maluca Mala is a Dominican musician based in New York City. Mala's music is described as Latin-dance, tropical punk hip-hop and ghetto techno. Raised in Manhattan's Washington Heights, Mala performs a "decadent mix" of musical styles, according to the New York Times.
Ron Finley is a creative phenomenon on a quest to conquer the world, one garden at a time. Armed with a shovel, some soil and seeds, Ron Finley has come to be known as the "renegade gardener," and his unexpected tactics have made him one of L.A.'s most widely known activists.
Camille Rose Garcia is a Los Angeles based artist who creates colorful surrealist fairy-tale paintings about failed utopias and the relationship to the natural world.
For more details, please visit Facebook.com/BecksBeer.