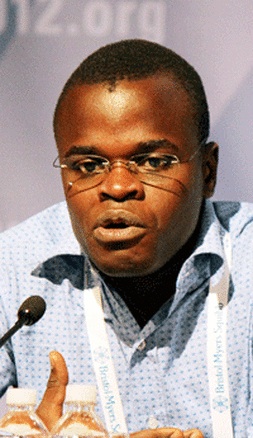 At the last International AIDS Conference in 2012, Paul Semugoma, M.D., delivered a rousing speech about the rights of LGBT and HIV-positive people in Africa. It was also at this moment that he decided to publicly come out as a gay man. This year at AIDS 2014, Dr. Semugoma will stand again before the assembled crowd to accept the Elizabeth Taylor Human Rights Award in recognition of his accomplishments as a leader and advocate for human rights in the field of HIV/AIDS.
The award is presented by amfAR, The Foundation for AIDS Research; the International AIDS Society (IAS); and The Elizabeth Taylor AIDS Foundation (ETAF) in honor of Dame Elizabeth Taylor, amfAR's Founding International Chairman and a highly visible, vocal and relentless champion of the human rights of all people living with or affected by HIV. The presentation will take place at the opening session of the 20th International AIDS Conference (AIDS 2014) on Sunday, July 20, at the Melbourne Convention and Exhibition Centre in Melbourne, Australia.
A physician from Uganda, Dr. Semugoma has been at the forefront of efforts to address gaps in HIV prevention, care, and treatment among gay men and other men who have sex with men (MSM) in Africa. In 2009, when the Anti-Homosexuality Bill was introduced in the Ugandan Parliament, Dr. Semugoma became a vocal opponent of the bill and testified before Parliament on the potential adverse effects of the proposed legislation on public health, especially among gay men and other MSM. The bill, which punishes "aggravated homosexuality" with life in prison, was ultimately signed into law by Ugandan President Yoweri Museveni in February 2014.
"We are proud and delighted to present this year's Elizabeth Taylor Human Rights Award to Dr. Semugoma, who has stood, with unwavering courage and conviction, for the rights of LGBT communities and people with HIV/AIDS in Uganda and all over the world," said amfAR CEO Kevin Robert Frost. "Dr. Semugoma has become a powerful voice for the voiceless and a true champion of human rights."
"Dr. Semugoma's tenacious dedication to helping marginalized LGBT communities and people living with HIV/AIDS has brought about much-needed action, understanding and hope," said Joel Goldman, Managing Director of The Elizabeth Taylor AIDS Foundation. "We are pleased to honor Dr. Semugoma as his commitment exemplifies Elizabeth Taylor's enduring legacy in the fight against HIV/AIDS."
Shortly after disclosing his sexual orientation during his speech at AIDS 2012 in Washington, D.C., Dr. Semugoma left Uganda with his partner and his family and moved to South Africa. Earlier this year, Dr. Semugoma was detained at a Johannesburg airport while returning from a trip to Zimbabwe, where immigration authorities attempted to deport him to Uganda. Following an outpouring of support for Dr. Semugoma from advocates in South Africa and worldwide, deportation charges against him were dropped.