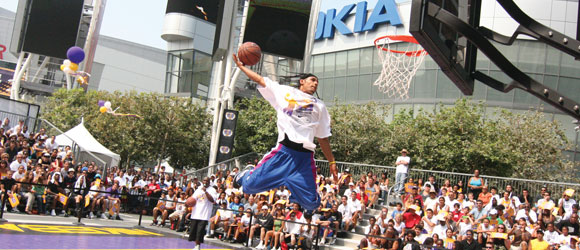 Photo is Credited to NBCSports
Basketball players of all ages and skill levels are invited to register for the sixth annual Nike Basketball 3ON3 Tournament Presented by NBC4 Southern California, set to return to L.A. LIVE and the streets of downtown Los Angeles for the sixth consecutive year Friday, August 8-Sunday, August 10, 2014.
Registration is now open and entry forms for players of all skill levels and ages can be found at nike3on3.com. More than 1,500 teams registered for California's largest 3ON3 Basketball Tournament in 2013. Fans are encouraged to sign up beginning today as brackets will fill up quickly. 
"We have seen tremendous growth not only in teams, but also in the fans that have experienced the Nike Basketball 3ON3 Tournament presented by NBC4 Southern California over the last five years. Our 6th year will continue in that spirit and we look forward to welcoming back teams that have played in prior years, as well as new ones," said Lee Zeidman, Senior Vice President & General Manager, L.A. LIVE & STAPLES Center. "The greatest part about the event is that anyone can play no matter what your skill level may be. It is a fantastic way to spend a summer weekend outside with your friends and family."
The tournament features six main divisions of play: Adult Elite, Adult, High School, Youth, Special Olympics and Wheelchair. The player's next grade for the high school division must be 9th-12th and player's next grade for the youth division must be 3rd-8th.  Adult, high school and youth divisions feature two competition levels: recreational and competitive. The Nike Elite Division will consist of three categories of players: Women, Men's 6 Foot and under and Men's Over 6 Foot. Brackets will be formed based upon these criteria and those delineated above.
The Nike Basketball 3ON3 presented by NBC4 Southern California is free and open to the public. The three-day experience will feature a variety of events at the Nike Center Court, including the highly anticipated Nike Slam Dunk Contest, over twenty interactive vendors and basketball-themed activities.
Participants can register their teams online at nike3on3.com.