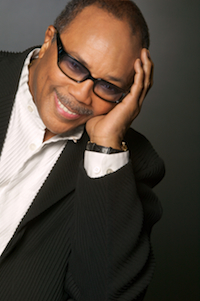 Quincy Jones is coming to Turner Classic Movies as part of an all-night tribute to the entertainment legend. Jones will join TCM host Robert Osborne on Monday, June 30, for a night of films featuring scores composed by Jones. The evening is scheduled to kick off at 8 p.m. (ET) with Jones' debut film as a composer, The Pawnbroker (1965), starring Rod Steiger. Also included in the lineup are The Slender Thread (1965), starring Sidney Poitier and Anne Bancroft; In the Heat of the Night (1967), the Best Picture Oscar winner starring Steiger and Poitier; The Italian Job (1969), starring Michael Caine; and $ (Dollars) (1971), starring Warren Beatty and Goldie Hawn.
Celebrating more than 60 years in the entertainment industry, Quincy Jones is an impresario in the broadest and most creative sense of the word. He has forged an extraordinary, multi-faceted career as a composer, record producer, artist, film producer, arranger, conductor, instrumentalist, TV producer, record company executive, magazine founder, multi-media entrepreneur and humanitarian. A master inventor of musical hybrids, Jones has shuffled pop, soul, hip-hop, jazz, classical, African and Brazilian music into many dazzling fusions, traversing virtually every medium. In the early '60s, Jones turned his attention to the world of film scores, an area that had essentially been closed to African-Americans.
He made his debut with Sidney Lumet's The Pawnbroker, the first of nearly 40 motion pictures he has scored. His credits also include scores for In Cold Blood (1967) and In the Heat of the Night (1967). In 1985, he co-produced Steven Spielberg's adaptation of Alice Walker's The Color Purple, which garnered 11 Oscar nominations including Best Picture, introduced Whoopi Goldberg and Oprah Winfrey to film audiences and marked Quincy's debut as a film producer. Jones has garnered seven Academy Award nominations and is the recipient of the Academy's Jean Hersholt Humanitarian Award. Jones recently produced the documentary Keep On Keepin' On, about famed trumpeter Clark Terry and his blind pianist protégé Justin Kauflin.
 
In addition to his evening on TCM, Jones recently appeared at the 2014 TCM Classic Film Festival to introduce screenings of The Pawnbroker and The Italian Job.
For more TCM programming, go to http://www.tcm.com/