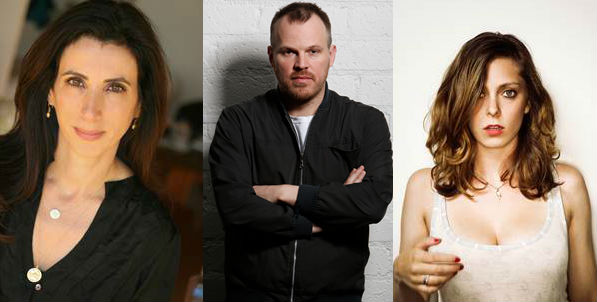 Showtime has given a pilot order to "Crazy Ex-Girlfriend," a half-hour comedy with musical elements co-created, executive produced and written by feature writer Aline Brosh McKenna (The Devil Wears Prada, Annie) and writer/actress/comedian Rachel Bloom (Robot Chicken). The project centers around Rebecca (Bloom), a successful, driven, and possibly crazy young woman who impulsively gives up everything – her partnership at a prestigious law firm and her upscale apartment in Manhattan – in a desperate attempt to find love and happiness in that exotic hotbed of romance and adventure: West Covina, Calif. Produced by CBS Television Studios, the pilot will be directed and executive produced by Marc Webb (500 Days of Summer, The Amazing Spider-Man films) and will be shot in California this fall. The announcement was made today by David Nevins, President, Showtime Networks Inc.
 
"This pilot is an exciting change of pace for us," said Nevins. "'Crazy Ex-Girlfriend' is built on the inspired comedy and songwriting of Rachel Bloom – who we believe is ready to break out. She was introduced to us by Aline Brosh McKenna, who has a brilliant, contemporary comedy voice that is spot on as showrunner of this project. And, we were lucky to attract director Marc Webb who is eager to flex different creative muscles after his blockbuster successes."
 
"I am so happy to be working with Rachel Bloom, who is not just a powerhouse musical comedy talent, but also a fabulous writer and creator – I feel very lucky to have found her videos online," said Brosh McKenna. "We are thrilled that Marc Webb, whom I've wanted to work with for such a long time, has come aboard as we move forward with the pilot. David Nevins has been a great champion of the show from the second we stepped into his office, and Showtime and CBS have been ideal creative partners. They've given us both freedom and support, which is all writers can really ask for."
Aline Brosh McKenna's feature film credits include The Devil Wears Prada, We Bought A Zoo, I Don't Know How She Does It, Morning Glory, Laws of Attraction, 27 Dresses, and the upcoming films Annie and Cruella de Vil. Marc Webb made his feature film debut with the Golden Globe-nominated (500) Days of Summer, which earned him The National Board of Review's Spotlight Award, which honors outstanding directorial debuts. He most recently directed the blockbuster films The Amazing Spider- Man and The Amazing Spider-Man 2.