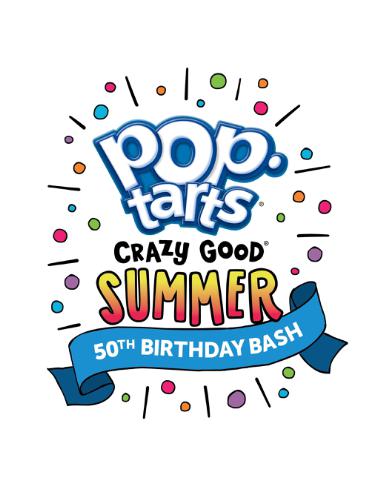 For 50 years, people of all ages have been toasting to Crazy Good™ mornings with Pop-Tarts® toaster pastries – and this year, the brand is celebrating its birthday by announcing the return of Crazy Good Summer. The third annual concert series is bigger than ever, with the chance to score free tickets to see some of today's hottest acts. The all-star line-up, produced by Live Nation Entertainment, will feature multi-platinum selling recording artist Demi Lovato, Jasmine V and Emblem3 in three separate cities – Lovato and Emblem3 will perform in yet-to-be-named cities while Jasmine V is set to headline a free concert in Los Angeles. As previously announced, the Crazy Good Summer Bash will also feature a private concert by Austin Mahone for one lucky winner.
"I'm excited to be a part of Pop-Tarts Crazy Good Summer Bash again," said fan-fave Demi Lovato. "I can't wait to perform for my fans in a top secret location!"
Starting June 16, fans ages 13 and older can visit the Pop-Tarts Tumblr page to RSVP and score free tickets. But hurry – there are a limited number of tickets available for all shows!
"You don't turn 50 every day – 2014 is a big year for Pop-Tarts and we're excited for our third Crazy Good Summer," said Aleta Chase, director of marketing for Pop-Tarts. "It may be our birthday, but we're giving our fans gifts with more free concerts, top artists and even cooler swag."
The Crazy Good Summer birthday bash kicks off Wednesday, June 25, when Jasmine V takes the stage at the Los Angeles House of Blues.