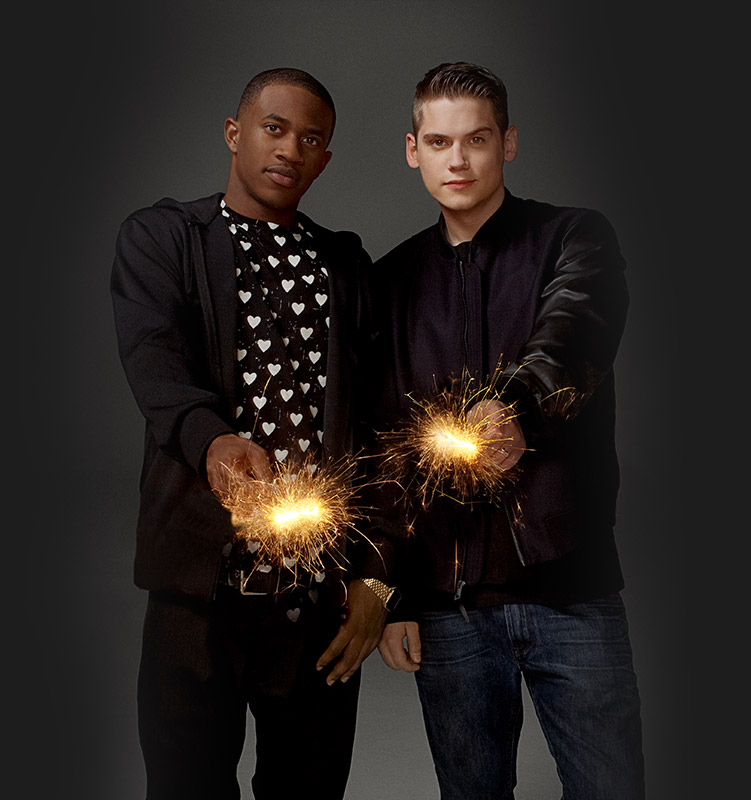 MKTO's smash hit "Classic" has been certified platinum in the U.S. The duo's first stateside-million selling single (the song has achieved double-platinum in Australia) has propelled them to two hotly anticipated TV appearances, with a performance on ABC's 'The View' yesterday morning and a special live debut performance of their forthcoming new single, "American Dream," on ABC's Good Morning America on July 3rd.
Their first-ever headlining US tour has become one of the summer's most sought-after tickets. The 36 city American Dream tour as part of the Skype "Ones to Watch" series kicks off June 27th in Detroit with MKTO bringing their kinetic blend of pop/hip hop and R&B to major cities such as New York, Los Angeles, Chicago, Dallas and Philadelphia (see below for a full list of dates). For information on tickets, go to www.wearemkto.com. VIP upgrade packages can be found at www.vipnation.com. The duo will also be hitting the road with Demi Lovato this fall, with Christina Perri also joining the bill (dates below). 
Tony Oller (22) and Malcolm Kelly (21) comprise MKTO, meeting on the set of Teen Nick's Gigantic in 2010 and immediately bonding over their passion for music.  They would eventually connect with songwriters/producers Eman and Evan "Kidd" Bogart (Beyoncé, Ne-Yo, Rihanna) who inked them a deal to Columbia Records and began executive producing their debut album. MKTO features the uplifting  "American Dream," "Could Be Me," a collaboration with Grammy Award winner Ne-Yo, and the album's stunning closer, "Goodbye Song" among others.
'Ones To Watch' With Skype Presents "MKTO American Dream" Tour Dates
Date                      City                                                        Venue
June 27                 Detroit, MI                                          St. Andrews Hall
June 28                 Cincinnati, OH                                    Bogart's
June 30                 Minneapolis, MN                             Varsity Theater
July 1                    Kansas City, MO                               Uptown Theatre
July 5                     Englewood, CO                                 Gothic Theatre
July 6                     Salt Lake City, UT                              The Depot
July 8                     Anaheim, CA                                      House of Blues
July 9                     San Francisco, CA                             The Fillmore
July 11                   West Hollywood, CA                       House of Blues
July 12                   Las Vegas, NV                                    Bank at the Bellagio
July 13                   San Diego, CA                                    House of Blues
July 15                   Bakersfield, CA                                 B Ryder's
July 16                   Sacramento, CA                                Ace of Spades
July 17                   Portland, OR                                      Hawthorne Theatre
July 19                   Reno, NV                                             Reno Events Center (w/ Demi Lovato)
July 20                   Paso Robles, CA                                California Mid-State Fair (w/ Demi Lovato)
July 22                   Tempe, AZ                                          Marquee Theatre
July 24                   Houston, TX                                       House of Blues
July 25                   Dallas, TX                                             House of Blues
July 26                   Pomona, NY                                       Provident Bank Park
July 27                   New Orleans, LA                              House of Blues
July 29                   Ft. Lauderdale, FL                            Revolution
July 30                   Lake Buena Vista, FL                       House of Blues
August 1              Atlanta, GA                                         Masquerade
August 2              Charlotte, NC                                     The Fillmore
August 3              Philadelphia, PA                               Theater of Living Arts
August 5              Pittsburgh, PA                                   Stage AE
August 7              New York, NY                                    Irving Plaza
August 8              Toronto, ON                                       Virgin Mobile Mod Club
August 9              Cleveland, OH                                   House of Blues
August 10            Lewisburg, WV                                  State Fair of West Virginia
August 12            Silver Spring, MD                              The Fillmore Silver Spring
August 14            Springfield, IL                                     Illinois State Fair
August 15            Indianapolis, IN                                 Deluxe at Old National Centre
August 16            Columbus, OH                                   Newport Music Hall
August 17            Chicago, IL                                           House of Blues