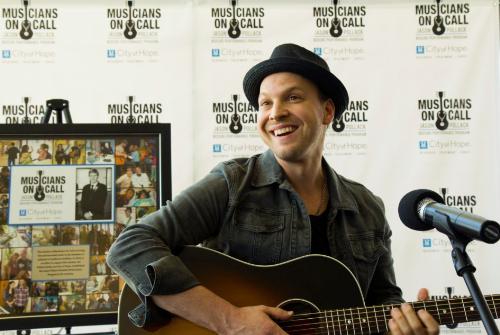 In separate campaigns, non-profit work has been made to benefit public school music programs and cancer patients. Both exhilerating the benefactors with the gift of music.

International nonprofit The Young Americans announces today that its $1M Turn Up The Music campaign is close to the quarter mark, in its inaugural year with $225K in direct contributions already made to schools across America. To celebrate its success, the 52 year-old performance troupe surprised the West Ottawa High School Music Program in Holland, Michigan with an additional $8,000 gift. The winning school was announced on a live video Facebook telecast, May 26.

"It's a dream come true to have $8,000 to spend on our choir program," exclaimed Pam Pierson, West Ottawa High School choir director. "We plan to use the money on much-needed choir risers, new percussion instruments and tons of new sheet music. The Young Americans have given my students so much already and this gift just adds to the very special connection we've always had."

The Young Americans serves as the world's largest youth music advocacy group who take their show on the road worldwide every year with 45-member, college-aged touring casts.  At each tour stop, the casts teach music performance workshops including classes in singing, dancing, and theater. On the final day, students present a two-hour show performing onstage with The Young Americans in front of parents, families, teachers, friends and community members.
In other news, cancer patients at City of Hope were surprised with an intimate performance by Grammy-nominated musician and songwriter Gavin DeGraw as charity organization Musicians On Call launched a new program specifically for the Los Angeles-area cancer research and treatment center.
The program ­– officially called The Musicians On Call Jason Pollack Bedside Performance Program at City of Hope – will bring live, in-room performances to patients undergoing treatment or unable to leave their hospital beds. As with all Musicians On Call programs, the performances are meant to bring the healing power of music to those patients who need it most.
At City of Hope, the program began with a formal launch by Musicians On Call members, City of Hope staff and music industry executives. Alissa Pollack, EVP of Music and Partner Integrations at Premiere Radio, started the program in honor of her father who passed away from cancer last year. During the event, she gave a moving and heartfelt tribute to Jason Pollack's legacy.
"It is truly a dream to be able to start a fund in my father's name with Musicians On Call and City of Hope," said Pollack. "He always encouraged my work with both charities and I know he would be so proud to be the inspiration for this. Knowing that patients will be able to benefit from my father's program is an incredible feeling."
DeGraw brought his guitar out and sang "Chariot" to a large group of patients that had gathered inside City of Hope Helford Clinical Research Hospital. DeGraw has worked closely with Musicians On Call over the years and spent time connecting individually with many patients.
We applaud the work of these two groups and other charitable organizations that utilize the power of music for the good of the people.