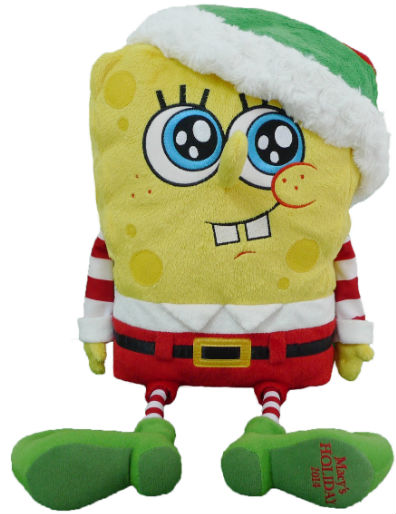 Macy's Parade & Entertainment Group and Nickelodeon announced that beloved pop-culture phenomenon SpongeBob SquarePants will serve as Macy's 2014 Holiday Ambassador. Kicking off this November, an exclusive SpongeBob talking plush complete with sound chip and Patrick and Plankton finger puppets will be available exclusively in more than 600 full line Macy's stores and Macys.com, as part of the Macy's collectible plush program that runs through December 31. Adding to the holiday cheer, the first-ever 'square' balloon makes its 11th triumphant return to the Macy's Thanksgiving Day Parade this November in New York City.
 
"SpongeBob SquarePants has experienced many iconic moments over the last 15 years, and we are honored to add Macy's coveted holiday ambassadorship to the list," said Pam Kaufman, Chief Marketing Officer and President Consumer Products, Nickelodeon. "The holidays are a magical time of year and who better than SpongeBob, the eternal optimist, to deck the halls with cheer this season."
 
Macy's collectible plush program has for almost two decades, featured some of the most beloved and iconic characters in history. Selected to highlight the family fun and excitement that awaits shoppers at stores during the holiday season, SpongeBob SquarePants joins a star-studded list of the world's most famous characters that in the past have welcomed the holidays at the retailer. From the first plush of Babar the elephant to the most recent stars including The Smurfs, Kermit the Frog, Scooby-Doo, Snoopy, Shrek and Mickey Mouse, the plush has become a Macy's tradition and a coveted collector's item.
 
The SpongeBob SquarePants plush features SpongeBob's laugh and loveable quotes such as "Did you know you were my best friend?" and "I'm ready, I'm ready, I'm ready," and will be available for $15.95. In addition to the Patrick and Plankton finger pals, owners of the plush will have access to exclusive online added value components including a customizable and shareable digital holiday greeting.
Floating at 44-feet tall, 41-feet long and 34-feet wide, SpongeBob's helium balloon will travel down New York's most famous Parade route for the eleventh time. Last year the quadrangular balloon received a state-of-the-art makeover with the eternal optimist donning a holiday-themed ensemble for his second and newest balloon in the annual holiday spectacular. Since its launch in July 1999, SpongeBob SquarePants has become one of the most beloved animated characters in TV history, and a global pop culture phenomenon.