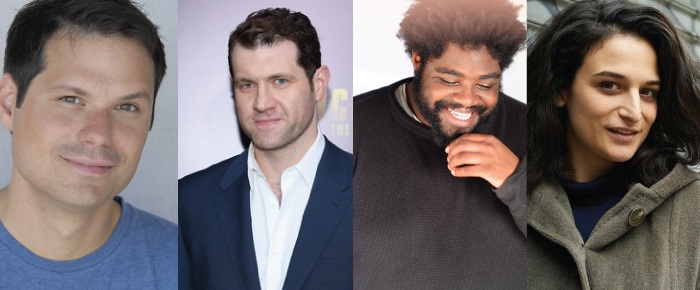 Photo: Nantucket Film Festival

The Nantucket Film Festival announced the line-ups for some of their most popular Signature Programs at the Festival: the annual All-Star Comedy Roundtable presented by Ben Stiller, plus the return of their beloved live event, the Staged Reading. Bradley Whitford has also been announced as the presenter for this year's Screenwriter's Tribute, to be given to prolific writer Aaron Sorkin, as previously announced presenter Emily Mortimer is no longer able to attend due to her shooting schedule.
These and other Signature Programs combine with a film slate of more than 100 titles, the most the festival has ever programmed, to bring a wealth of exciting talent to Nantucket later this month. "We are committed to presenting Signature Programs that feature the world's most preeminent screenwriters, writers and storytellers. We look forward to continuing to explore writing and storytelling through current masters of the art form and breakthrough talents," said Executive Director Mystelle Brabbée.
Now in its sixth year, the Festival's All-Star Comedy Roundtable will be hosted by last year's hilarious host Michael Ian Black, who will be appearing in this summer's They Came Together, with Billy on the Street's Billy Eichner, Obvious Child's Jenny Slate, and The Kroll ShowwriterRon Funches also participating. The program supports the Nantucket Teen View program, which holds writings labs for Nantucket teenagers throughout the year and supports student filmmakers. This year's roundtable will be held on Sunday, June 29th.
This year, the Festival is re-introducing one of its Signature Programs, a Staged Reading of a high-profile, yet unproduced screenplay, and has chosen Donick Cary's TV Pilot Strange Calls.Joining Cary at the reading will be Fred Willard, Anthony Edwards and Tom Cavanaugh. Willard is best known for his work in Christopher Guest's mockumentaries, including Best in Show, For Your Consideration, and Waiting for Guffman, as well as his recent work on the hit ABC show Modern Family. Edwards followed up his landmark role as Dr. Mark Green on NBC's ER with roles in David Fincher's Zodiac, and recently starred in ABC's Zero Hour. Cavanaugh starred on NBC's Ed, and has appeared on USA's Royal Pains, NBC's Scrubs, and FOX's The Killing.
Strange Calls is written by Cary, co-executive producer and show runner of NBC's Parks and Recreation. His other executive producer credits include FOX's New Girl, HBO's Bored to Death, FOX's The Simpsons, and he was formerly head writer of Late Night with David Letterman. Strange Calls takes place on Nantucket and is focused on Toby Banks, a Boston cop who has been exiled to the island and is tasked with answering the strange calls that come into the station. The Staged Reading of Strange Calls will be held on Thursday, June 26th.
Bradley Whitford will be on hand at the festival to present the Screenwriter's Tribute to Aaron Sorkin. Whitford worked with Sorkin as a cast member of The West Wing and Studio 60 on the Sunset Strip. Past Tribute presenters include Glenn Close, Diane Keaton, and Jim Carrey. The Screenwriters Tribute will take place on Saturday, June 28th and is sponsored by EPIX.
The 2014 Nantucket Film Festival will take place June 25-30. Passes and individual tickets are currently available. For additional information please visit our website at www.nantucketfilmfestival.org.