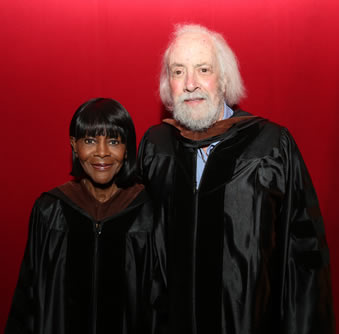 The American Film Institute (AFI) conferred Doctorate of Fine Arts degrees honoris causa upon screenwriter Robert Towne and actress Cicely Tyson, during the AFI Conservatory 2014 commencement of 127 graduates at Hollywood's historic TCL Chinese Theatre. Esteemed director Francis Ford Coppola presented the honor to Robert Towne with whom he worked on "The Godfather" (1972); director, screenwriter, producer and 2013 AFI Honorary Degree recipient Jon Avnet (AFI Class of 1972) presented to Cicely Tyson (AFI Directing Workshop for Women, Class of 1977), who he directed in "Fried Green Tomatoes" (1991). A surprise appearance by screenwriter and "The X-Files" creator Chris Carter marked the Institute's farewell to director Robert Mandel ("F/X," "School Ties," "The X-Files"), who previously announced his departure as Dean of the Conservatory after nine years. Mandel directed the groundbreaking show's pilot. AFI will establish a nine-year scholarship in Mandel's name for each of his years as Dean.
The AFI Conservatory is renowned for its collaborative approach to hands-on filmmaking and its advanced training of the next generation of storytellers in six filmmaking disciplines: Cinematography, Directing, Editing, Producing, Production Design and Screenwriting. The AFI Conservatory is also respected for its diversity of emerging talent – this year's class comprises of 55 women and 72 men, with 33 of the graduates coming from international countries.
Towne and Tyson join an esteemed group of artists previously honored with the AFI Honorary Degree: Robert Altman, Maya Angelou, Saul Bass, Kathryn Bigelow, Mel Brooks, Anne V. Coates, Caleb Deschanel, Clint Eastwood, Roger Ebert, Nora Ephron, James Earl Jones, Jeffrey Katzenberg, Kathleen Kennedy, John Lasseter, Spike Lee, David Lynch, Helen Mirren, Thelma Schoonmaker, Haskell Wexler, Robert Wise, John Williams and many more.
Visit AFI.com or connect with AFI at twitter.com/AmericanFilm, facebook.com/AmericanFilmInstitute and youtube.com/AFI.