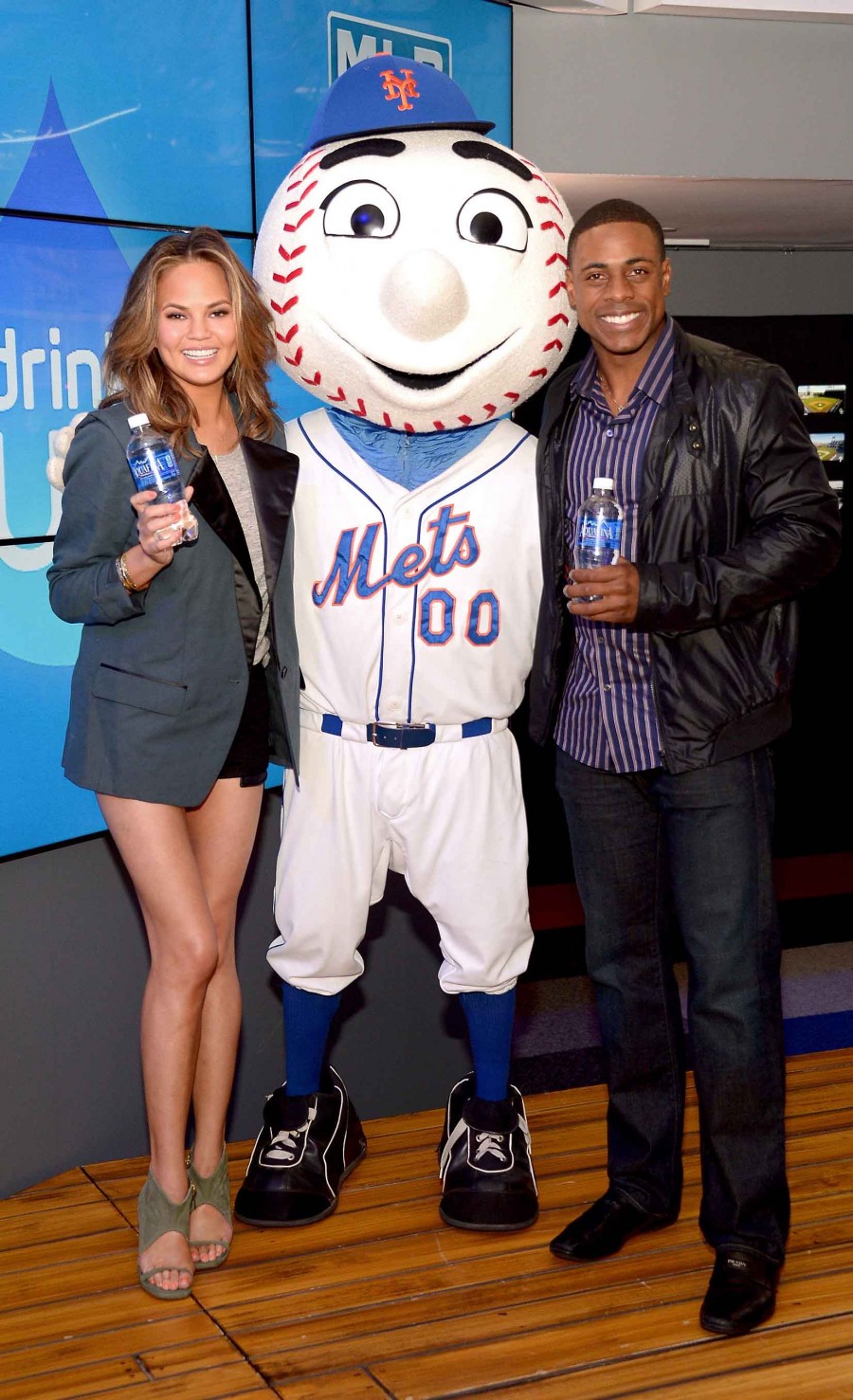 New York Mets® superstar Curtis Granderson and  Sports Illustrated cover model and TV personality Chrissy Teigen will help Aquafina® launch a campaign encouraging fans of all ages to drink more water. In conjunction with Partnership for a Healthier America's (PHA) Drink Up initiative, Aquafina's national "Pledge. Drink. Win!" Sweepstakes will not only give fans the opportunity to submit their personal hydration pledges, but also automatically enter them for a chance to win a VIP experience to the 2014 MLB® All-Star Game on July 15 at Target Field® in Minneapolis.
"At Aquafina, we're always trying to think of new ways to encourage people to drink more water," shared Jennifer Dubin, Marketing, Aquafina. "This new effort will help shine a spotlight on the benefits and importance of staying hydrated with water during the spring and summer months, especially as we get into the height of baseball season. We're honored to support PHA's larger "Drink Up" movement and help spread the word about the importance of adequate water intake through the Aquafina 'Pledge. Drink. Win!' campaign."
Parents and teens across the country can visit the "Pledge. Drink. Win!" page at www.MLB.com/Aquafina to learn more about the Sweepstakes and take the pledge. By uploading a photo of themselves with a glass of water or an Aquafina water bottle, fans will automatically be entered for a chance to win the grand prize, including a once-in-a-lifetime trip to the 2014 MLB All-Star Game. Fans who enter the Sweepstakes may see their photo uploaded as part of a larger mosaic that will create an image of Curtis Granderson and Aquafina. Additionally, participants can continue the conversation on social media by using the campaign's dedicated hashtag #SpreadTheWater.
As part of its larger partnership with the New York Mets, Aquafina will activate at Mets Family Sunday at Citi Field® during various games scheduled throughout May and June beginning with Mother's Day on May 11. Aquafina will be on-site to encourage kids to sign up for the "Pledge. Drink. Win!" Sweepstakes, as well as provide games and activities for all-ages.
Teigen and Granderson, both Drink Up enthusiasts, will help launch "Pledge. Drink. Win!" today, at a media event in MLB Fan Cave in New York City. 
For additional information on "Pledge. Drink. Win!" please visit www.MLB.com/Aquafina, and to check out some exclusive video content from Chrissy Teigen and Curtis Granderson, on Twitter at @aquafina and help #SpreadTheWater.
Photo Credit Getty