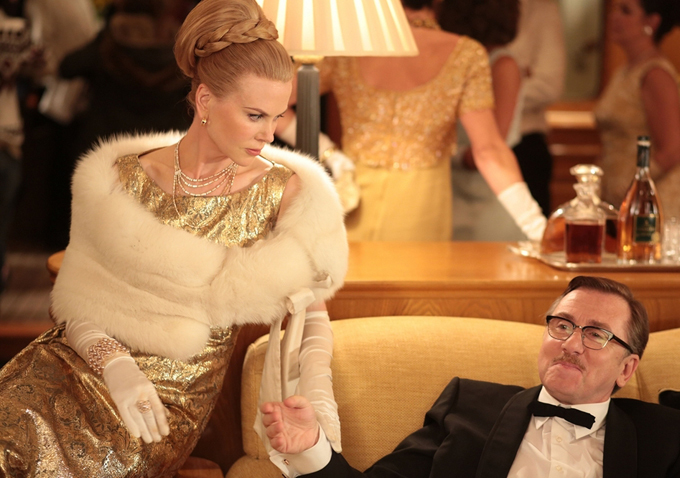 The 2014 Cannes Film Festival has begun. Olivier Dahan's Grace of Monaco saw its world premiere at the Grand Théâtre Lumière of the Palais des Festivals, in the Official Selection category, Out of Competition.
Opening with mediocre reviews, the film portrays a period in the life of American Actress Grace Kelly (played by Nicole Kidman) who became Princess Grace of Monaco when she married Prince Rainier III (Tim Roth) in 1956, in what was dubbed "the marriage of the century". An Oscar winner, she was already a huge film star, having worked with the very greatest (John Ford, Alfred Hitchcock, Fred Zinnemann) and acclaimed the world over. Six years later, amid occasional difficulties in fulfilling her role, she was invited back to Hollywood by Alfred Hitchcock, to play in his new film Marnie. At the time, France was threatening to tax and even annex Monaco, the tiny Principality whose monarch Kelly had become. Was she still an actress? Was she really Princess of Monaco?
Produced by Pierre-Ange Le Pogam, Uday Chopra and Arash Amel, who also wrote the screenplay, Grace de Monaco sees Nicole Kidman play the role of Grace, with Tim Roth as Prince Rainier.
Closing the festival on May 24th, Quentin Tarantino will celebrate the life and work of Sergio Leone.To celebrate the 50th anniversary of the birth of the Spaghetti Western in 1964, the Festival de Cannes will be showing A Fistful of Dollars directed by Sergio Leone that same year and starring Clint Eastwood and Gian Maria Volontè. The film will be screened on Saturday 24th May, after the prizes have been awarded, using the exceptional new copy restored by the Cineteca di Bologna.
For screening schedules and more info: http://www.festival-cannes.fr