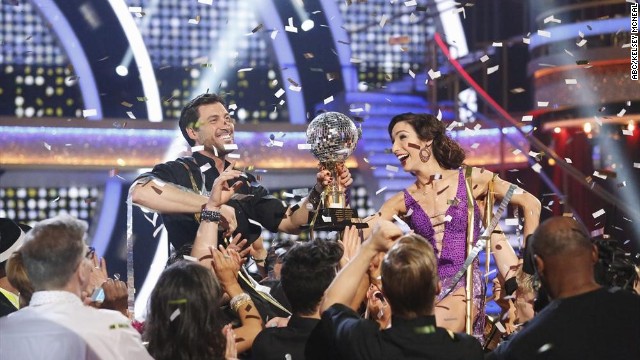 At the end of the night, Meryl Davis and Maksim Chmerkovskiy were crowned the Season 18 Champions, on the Season Finale, TUESDAY, MAY 20 (9:00-11:00 p.m., ET) on the ABC Television Network. (ABC/Kelsey McNeal) MAKSIM CHMERKOVSKIY, MERYL DAVIS
Another shining award for the talented ice-skater and Olympic gold medalist, Meryl Davis. On Tuesday night's finale of "Dancing With The Stars," Davis and her pro-dance partner Maksim Chmerkovskiy took home the mirror ball trophy.
The finale also brought success to ABC's ratings. From 9:00-11:00 p.m., ABC's "Dancing" finale faced a 2-hour season finale of "The Voice" for the first time ever, and came out on top by a wide margin.
ABC finished as the most-watched TV network on the final Tuesday of the season,outdrawing runner-up NBC by 3.5 million viewers (13.7 million vs. 10.2 million). It was ABC's 3rd straight night to rank as the No. 1 network in Total Viewers, and 4th time in 5 nights.

"Dancing with the Stars" was the night's dominant, most-watched TV show (14.9 million).The ABC unscripted series was a strong No. 2 on the night in Adults 18-49, outdelivering "Idol" by 41% (2.4/7 vs. 1.7/6).