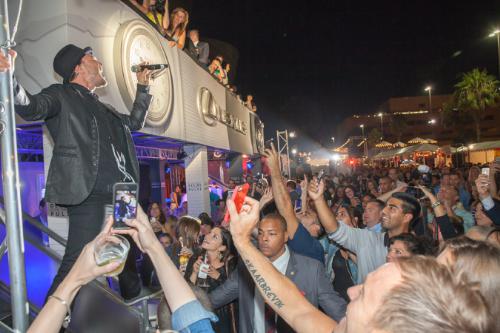 The fourth annual Los Angeles Food & Wine festival will delight taste buds on August 21-24, 2014. For the fourth straight year, the Los Angeles Food & Wine festival, presented by FOOD & WINE magazine, returns to Downtown Los Angeles, one of the country's premier cultural destinations.  The culinary world's most recognized names and faces will come together for an epicurean kaleidoscope of festivities that will take over the heart of Los Angeles for a three-night, four-day extravaganza.
Anchored within the center of the city, the Los Angeles Food & Wine festival will feature an unparalleled weekend of festivities. Enjoy live culinary demonstrations including Jenn-Air Master Class Series; tastings from world-class wineries; the LEXUS Grand Tasting; book signings; mixology seminars; activations from returning sponsors including The Cosmopolitan of Las Vegas, Delta Airlines and JENN-AIR; as well as new partners, such as Chase Sapphire Preferred®, a premier travel and dining rewards card from Chase, acting as the presenting sponsor of this year's kickoff event, Ultimate Bites of L.A. on Thursday, August 21, 2014. Featuring the first ever Chase Sapphire Preferred Chef Challenge, two of L.A.'s most influential chefs will team up with visiting chefs to compete for charity. Chase Sapphire card members will enjoy VIP lounges, event speed lines, and access to an exclusive luncheon and intimate meet-and-greets with chefs during the festival.
Thoughtfully curated, each moment of the festival will bring a one-of-a-kind opportunity for guests to have access to award-winning celebrity chefs paired with music performances from nationally recognizable artists. Guests will savor acclaimed cuisine from over 100 celebrity and world-class chefs, and over 200 wines curated from prestigious wineries. "We are continuously in awe over the culinary talent this city has to offer," says CLM Co-Founder, Robert Weakley. "Collectively, the passion and dedication from the country's most influential chefs, along with their counterparts in L.A., creates an experience unlike any other. In the end, we simply want to enjoy good wine and food, all rolled up into one epic weekend."
Locals and visitors alike will experience the cultural diversity of Los Angeles's culinary scene within this inclusive setting. Additionally, Los Angeles Food & Wine will also feature events taking place throughout greater Los Angeles during the four-day celebration—from Beverly Hills to Santa Monica—as participants have the opportunity to partake in themed lunches and marquee chef collaborations. Tickets will be available for pre-sale to Chase Sapphirecard members starting on June 16th through June 18th and to the general public on June 19, 2014. Tickets can be purchased at http://www.lafw.com including full- and half-day packages, as well as specialty ticketed events throughout the city.