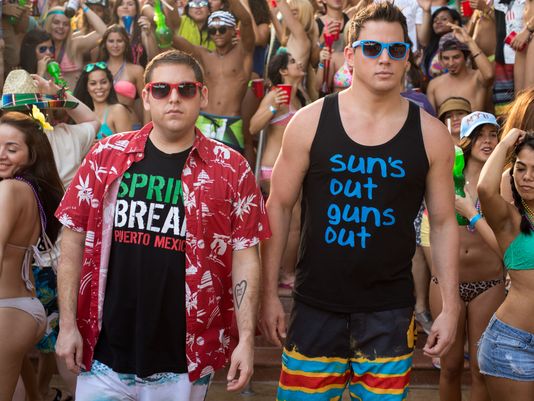 The Los Angeles Film Festival just announced Special Pre-Festival screenings of Dreamworks Animation's How To Train Your Dragon 2 on June 9 and Columbia Pictures/Metro-Goldwyn-Mayer Pictures' 22 Jump Street on June 10. Starting May 14, Festival pass holders will have the exclusive opportunity to purchase tickets to these screenings ahead of the general public on-sale via the Festival website.
The Festival also unveiled new programming, including Love Letters to Los Angeles: Michael Connelly and two additional master classes to be presented with the support of the Academy of Motion Pictures Arts and Sciences: Re-Imagining L.A.: Production Design with K.K. Barrett and Jeannine Oppewall and Costume Builds Character: Costume Design with Arianne Phillips and James Mangold. In addition, announced today are two of the Festival's Music and Film at the Grammy Museum® events, Intersection: Music & Film and the Frank Morgan Tribute. For more information on ticketing for both screenings, as well as attending programmed events, please visit www.lafilmfest.com.
The Special Pre-Festival 3D screening of writer/director Dean DeBlois' How To Train Your Dragon 2 takes place June 9 at 7:30 pm and stars Jay Baruchel, Cate Blanchett, Gerard Butler, Craig Ferguson, America Ferrera, Jonah Hill, Christopher Mintz-Plasse, T.J. Miller, Kristen Wiig, Djimon Hounsou, and Kit Harington. The thrilling second chapter of the epic How To Train Your Dragon trilogy returns to the fantastical world of the heroic Viking Hiccup and his faithful dragon Toothless.  The inseparable duo must protect the peace–and save the future of men and dragons from the power-hungry Drago. The film is produced by Bonnie Arnold. Dreamworks Animation will release the film on June 13.
Also announced today are two additions to the Festival's Master Class series. Re-Imagining L.A.: Production Design with K.K. Barrett and Jeannine Oppewall takes place on June 14 at 3:00 pm. Oscar® nominated production designers KK Barrett (HER) and Jeannine Oppewall (L.A. Confidential) will reveal how they created distinct images of Los Angeles for the screen, projecting iconic visions of our city into the world. The Master Class will be moderated by Mary Sweeney, producer/editor, Mulholland Drive.
On June 17 at 7:30 pm, the Festival will hold Costume Builds Character: Costume Design with Arianne Phillips and James Mangold, curated by Sophie de Rakoff. Esteemed costume designer Arianne Phillips has garnered two Oscar® nominations for her work in Madonna's W.E. and James Mangold's Walk The Line. Phillips will be joined by director James Mangold, to discuss their long-time collaboration to bring to life memorable characters in films such as Walk the Line, Girl Interrupted and 3:10 to Yuma. The Master Class will be moderated by Elvis Mitchell, Curator, Film Independent at LACMA.  Previously announced Master Classes include Music in Film: A Sound Journey with Atticus Ross, which will take place on June 12 at 7:00 pm. Special support is provided by the Academy of Motion Picture Arts and Sciences for the entire Master Class series.
Music in Film at The GRAMMY Museum® is a signature program of the Los Angeles Film Festival and this year features two exciting programs. On June 14 at 3:00 pm Intersection:  Music & Film, curated by Tracy McKnight, showcases an afternoon of music featuring actress Jena Malone (Into the Wild, The Hunger Games: Catching Fire, Sucker Punch) and Lem Jay Ignacio's improvisational music project, The Shoe. The Frank Morgan Tribute is a jam session that pays tribute to alto sax legend Frank Morgan, whose hell-and-back career from prodigy to heroin addict, con man and San Quentin convict to his inspirational comeback as a jazz icon is the focus of documentary The Sound of Redemption. The evening willfeature jazz greats George Cables, piano; Ron Carter, bass; Mark Gross, alto sax; Grace Kelly, alto sax; Roy McCurdy, drums. The event takes place on June 15 at 3:00 pm.
Announced as part of the Festival Conversations series, Love Letters to Los Angeles: Michael Connelly is a conversation with writer and author Michael Connelly about his work creating quintessential Los Angeles novels. Connelly will also reveal some of his cinematic inspirations      and talk about his upcoming television series Bosch. The event takes place on June 16 at 8:00 pm.
A first time event taking place at the Festival this year is The Black List Live! A Staged Reading. The Festival is teaming up with The Black List to program a staged reading of an unproduced Black List script. Join us for this one night only reading of Stephany Folsom's 1969: A Space Odyssey, or How Kubrick Learned to Stop Worrying and Land on the Moon about a White House public affairs assistant who convinces Stanley Kubrick to fake the moon landing, just in case something goes wrong during that one small step. The event will take place on June 14 at 7:00 pm at the Los Angeles Theater.
This also marks the Festival's first time joining forces with Funny Or Die to host a mash-up comedy showcase celebrating diverse, unique and authentic voices in the comedy world. Funny or Die's Make 'em LAFF Showcase includes a mix of comedy videos and stand-up performances from comedians such as Kumail Nanjiani (Silicon Valley, Portlandia) and Jerrod Carmichael (Lucas Bros Moving Co), with additional performers to be announced. The winner of the Funny or Die Make 'em LAFF competition will have their next video produced by Funny Or Die and receive a talent hold deal with a cash grant presented by Fox Audience Strategy.
The 2014 Los Angeles Film Festival, which returns to downtown Los Angeles at L.A. LIVE for a fifth year and runs from Wednesday, June 11 to Thursday, June 19, will screen a diverse slate of nearly 200 feature films, shorts and music videos, representing more than 40 countries, along with signature programs such as the Filmmaker Retreat, Music in Film at The GRAMMY Museum® at L.A. LIVE, Master Classes, LA Muse and more. Opening the Festival will be the North American premiere of Bong Joon-ho's Snowpiercer and closing the Festival will be the Premiere of Clint Eastwood's Jersey Boys.  Visit www.lafilmfest.com for the most up-to-date schedule of films and programming.