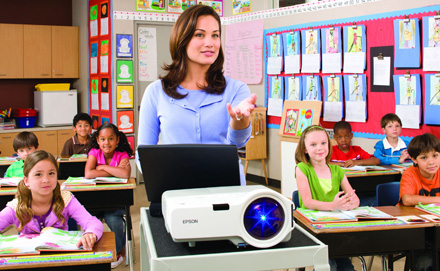 Epson and Mimio, announced a partnership to sell MimioStudio™ classroom software with Epson BrightLink® interactive projectors. This agreement gives schools more options for bringing advanced collaboration and interactivity into the classroom, delivering learning environments that inspire, connect and motivate students.
"In today's classrooms, interactive lessons are an ever-increasing necessity to engage students in the learning process," said Keith Kratzberg, senior vice president, Epson America, Inc. "School districts want to select the best interactive hardware and the best interactive software tools independently that suit their needs and budgets. This partnership delivers on that request and seamlessly brings together Mimio's highly acclaimed interactive software with Epson BrightLink, the top selling line of interactive projectors in the world."
Under this agreement, Epson will sell MimioStudio software licenses with Epson BrightLink interactive projectors through its reseller network. The software may also be purchased separately by existing BrightLink customers who wish to create collaborative and engaging classrooms. Both Epson and Mimio will provide customer support for their respective products, giving educators full confidence as they bring more interactivity into classrooms and other learning spaces.
Shipments of Epson interactive projectors with MimioStudio software licenses will commence in May 2014 in the United States and Canada. MimioStudio software licenses will be available for existing Epson customers through Epson and Mimio resellers. For additional information, visit www.epson.com/education.
Photo: www.geek.com