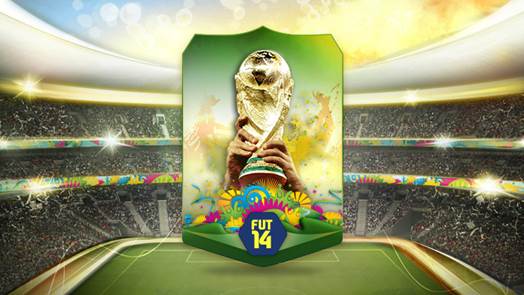 Electronic Arts Inc. announced EA SPORTS™ FIFA 14 Ultimate Team: World Cup, a free experience that brings the excitement of the 2014 FIFA World Cup Brazil™ to FIFA 14's most popular game mode. The World Cup addition for FIFA 14 Ultimate Team will be available on May 29 for PC, the Xbox 360® videogame and entertainment system, Xbox One®, the all-in-one games and entertainment system from Microsoft,  PlayStation®3 computer entertainment system, and PlayStation®4 via an automatic online update to FIFA 14.
 
FIFA 14 Ultimate Team: World Cup, a separate mode within FIFA Ultimate Team (FUT), lets players build their ultimate squad of players from all 32 National Teams attending this summer's tournament in Brazil. FUT World Cup features all 32 National Team crests, the official adidas® Brazuca match ball, National Team kits, the Estadio do Marcana stadium, and all new look and feel within FIFA 14 Ultimate Team.
 
Players can improve their team to make them tournament contenders by acquiring new players and consumables from special Packs in the FIFA 14 Ultimate Team: World Cup Store. Every FUT World Cup Pack includes a free Gold Pack available for use in the traditional FIFA 14 Ultimate Team experience.
 
FIFA 14 Ultimate Team fans will also have the chance to write football history. With Online and Single Player tournament modes, players can compete through the group stage and knockout phases in order to win the FIFA World Cup. By winning matches, players will earn in-game virtual coins that can be used to acquire packs in the FIFA 14 Ultimate Team: World Cup Store to strengthen their squad. Fans can increase squad chemistry by finding and playing with players from the same country or governing confederation.
In conjunction with the FIFA 14 Ultimate Team: World Cup update, a FIFA World Cup Kick Off mode will be available as part of the May 29 automatic download for Xbox One and PlayStation 4. All 32 National Teams competing in 2014 FIFA World Cup Brazil, the Estadio do Maracana, and the official match ball will be available for fans playing on Xbox One or PS4.
Join the EA SPORTS FIFA community at http://www.facebook.com/easportsfifa and follow us on Twitter @easportsfifa.  For information about FIFA 14 visit www.easports.com/fifa.