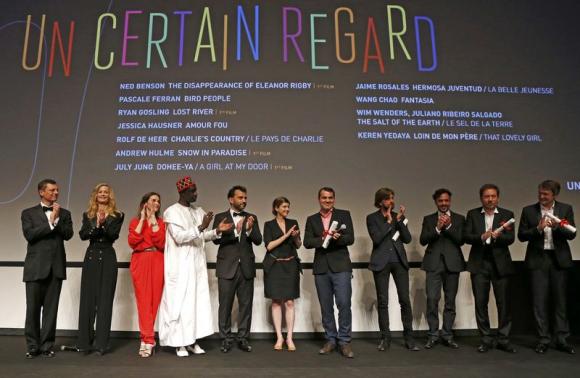 The winners and the Jury © FDC / C. Duchene
Un Certain Regard 2014 at The Cannes Film Festival presented 20 films in competition hailing from 23 different countries. Seven of the works were first films. The Opening film was Party Girl by Marie Amachoukeli, Claire Burger and Samuel Theis.
Under the presidency of Pablo Trapero (director – Argentina), the Jury was comprised of Peter Becker (president of The Criterion Collection – USA), Maria Bonnevie (actress – Norway/Sweden), Géraldine Pailhas (actress – France), Moussa Touré (director – Sénégal). The Jury was honored and delighted to have been able to view so many excellent films testifying to the diversity and vitality of filmmaking in the world today. They were also impressed by the vision and originality of the works presented.
PRIZE OF UN CERTAIN REGARD
FEHÉR ISTEN by Kornél Mundruczó
JURY PRIZE
TURIST by Ruben Östlund
UN CERTAIN REGARD SPECIAL PRIZE
THE SALT OF THE EARTH by Wim Wenders and Juliano Ribeiro Salgado
ENSEMBLE PRIZE
PARTY GIRL by Marie Amachoukeli, Claire Burger and Samuel Theis
PRIZE OF THE BEST ACTOR
David GULPILIL in CHARLIE'S COUNTRY by Rolf de Heer
In other Cannes news, every year, the traditional Cannes Festival Masterclass is a chance to give the floor to influential directors. Today, Jacques Audiard spoke about his cinematographic path, rich with experiences and memories, during a conversation with film critic Michel Ciment. The son of the famous dialogue writer Michel Audiard, he has directed multiple feature films which were as well received by critics as by the public, including A Self-Made Hero (winner of Best Screenplay at Cannes in 1996), Read My Lips, The Beat That My Heart Skipped, as well as A Prophet, which won the Grand Prix at Cannes in 2009. In 2012, he competed with Rust and Bone.