This week at an exceptional event in Shanghai, Air France unveiled its new La Première suite. The next stage of its vast project to move upmarket with its long-haul 'Best and Beyond' product, the La Première suite will progressively equip 19 Air France Boeing 777-300 as from September 2014. Take a tour…
More than just a seat, a private suite
The new La Première cabin, a veritable jewel, will now have four exclusive individual suites on Air France's long-haul Boeing 777-300s. On board, each suite ensures optimum privacy and enables customers to be totally or partially alone, in absolute comfort.
Well-being, relaxation and serenity go hand in hand for an exceptional trip. Once on board, the La Première guest will immediately feel at home. The large seat adapts to any customer and promotes rest and relaxation. Each guest has a personal 24-inch (61 cm) HD touch screen, one of the largest ever seen on board.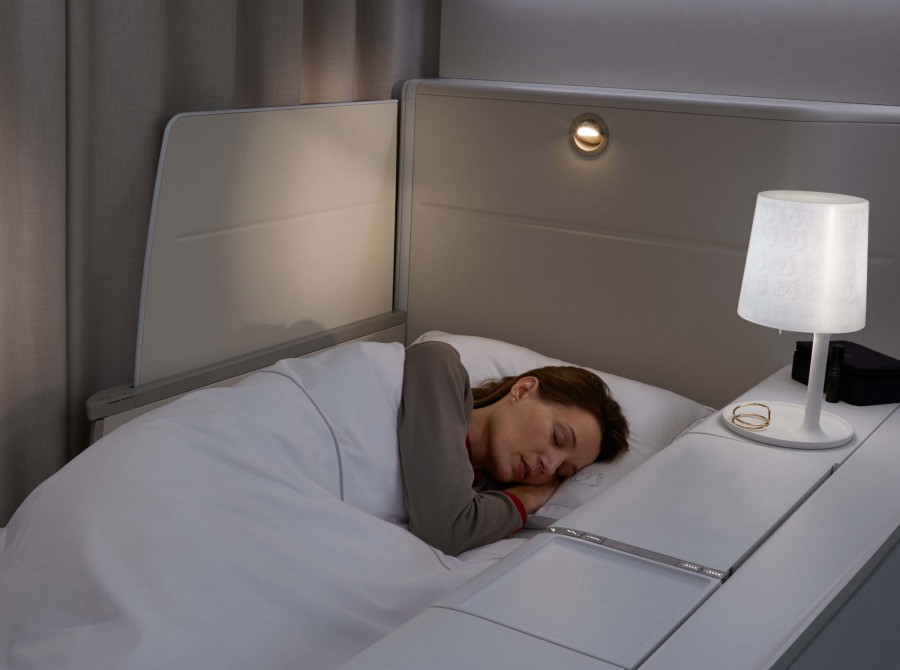 A bed worthy of the great hotels
Like spending a night in a palace, sleeping in one of our La Première suites is an exclusive experience. In an instant, the seat turns into a fully-flat bed that measures over two meters long. The armrests are fully retractable and when put away the bed is a vast 77cm wide.
When the passenger is ready to go to sleep, crew members will install a mattress on the seat, for impeccable comfort. Guests are then given a fluffy pillow and a Sofitel My Bed® duvet. The pillow is placed in a cotton pillowcase for ultimate softness, guaranteeing a perfect night's sleep.
An open or totally private suite, the luxury of deciding for yourself
Air France dresses each suite with thick curtains, held back with leather tiebacks. A unique and daring concept, this enables the passenger to choose whether they'd like to be totally or just partially isolated. Once the curtains are closed, the passenger has the feeling of being alone at home, totally enclosed in their private cabin. The La Première suite at this point becomes a vast, totally private space, with 3 square meters available for each guest.
The suite can also be enjoyed with a fellow passenger. Opposite the main seat, a second comfortable seat/ottoman enables the passenger to invite a guest for dinner or simply for a conversation. The suite in turn can then become a drawing room, a restaurant, or a work area. Anything goes in this space, which changes according to the passenger's desires.
A designer's spirit
Air France embodies French elegance, expressed by its choice of textures and materials and continually guided by an obsession for absolute comfort.
The "leather-effect" cabin walls provide a cozy atmosphere. This high-quality leather can also be found on the headrests and armrests. A thick, soft woven tweed fabric covers the seat, providing a touch of elegance to the ensemble. The various storage compartments are padded with suede. With its stitching, touches of wood and metal, the new La Première suite represents the utmost in sophistication, down to the slightest details.
"Our new La Première suite, from among all our new products and services, is the one that best represents our commitment to service excellence and a French travel experience. It illustrates our intention to recover and our global ambition." – Frédéric Gagey, Chairman and CEO of Air France.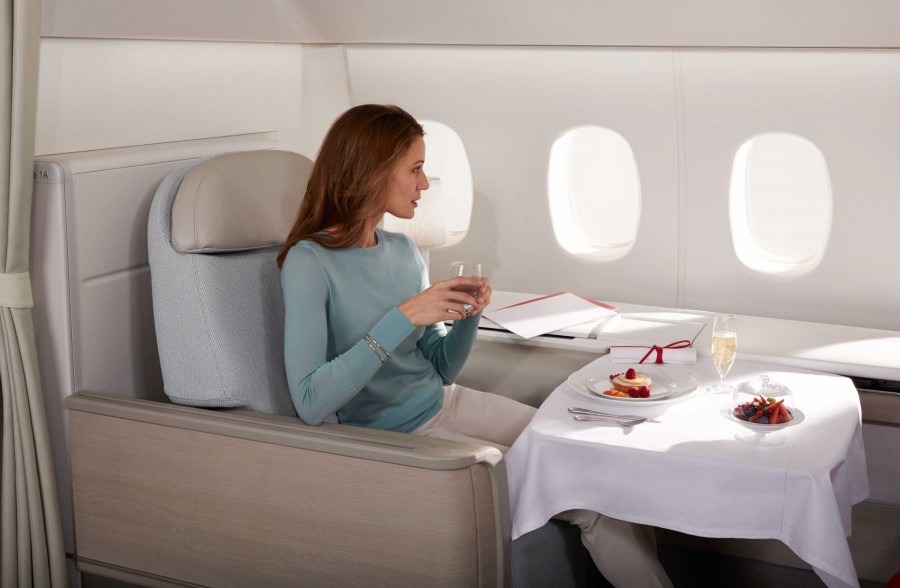 At a glance
Designed for Air France by the manufacturer B/E Aerospace, the new La Première suite is the only one of its kind in the world. Its unique design has been specially created by designer Priestmangoode and design and branding agency, Brandimage.
· 76 seats equipping 19 Boeing 777-300
· An exclusive cabin with 4 suites
· A unique concept, with each suite featuring adjustable curtains
· A suite designed with top-of-the-range materials – leather, woven fabrics, suede, etc.
· A spacious, ergonomically-designed seat, with integrated lumbar support
· Direct access to the central aisle
· A large fully-flat bed
· A sleek console with integrated storage compartments
· A large table and an ottoman for inviting a guest during the trip
· A mobile partition and adjustable curtains, allowing each guest to choose their preferred level of privacy
· A plaid and "boudoir" cushion available as soon as the guest boards
· A mattress, cushion and warm duvet for optimum sleeping comfort
· A private wardrobe
· A 24-inch High Definition screen and touch remote
· The window blinds close at the flick of a switch
· Accessories to make the guest feel at home; bedside lamp, pillow, plaid, etc.
Key Dimensions
· Bed length: 2.01 m
· Bed width: 77 cm
· Width of the seat: 57 cm
· Total length of the suite: 2.30 m
· Total surface area: 3 square meters
"Air France, France is in the air"
To unveil its new La Première suite, as well as its new travel concept along with all of the other the new cabins that have recently been announced, Air France has created a unique travelling event that will include three international exhibitions in Shanghai, New York and Paris throughout 2014.
These exhibitions, which are free and open to the public, have been designed as a journey. Real and virtual experiences are combined so that everyone can experience and interact with Air France's new world.
You can visit the "Air France, France is in the air" exhibition at the locations and dates below:
. Shanghai from 8 to 11 May 2014
. New York from 26 to 28 June 2014
. Paris from 20 to 21 September 2014
More info at http://expo.airfrance.com