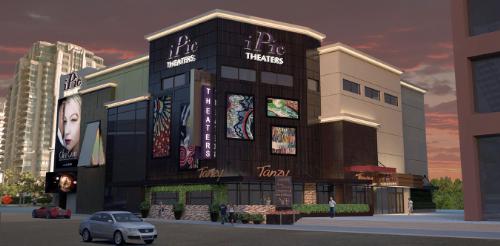 You've heard of them… movie theater-going gourmet style. Now iPic Theaters will officially open in the Westwood neighborhood of Los Angeles, California on May 2nd, 2014. Known for creating a visionary movie-watching escape, iPic Theaters in Westwoodwill be comprised of six-screens, and 424-seats as well as the iconic modern architecture and "affordable luxury experience" that have become synonymous with the brand.
"From the moment of arrival, guests will be transported by iPic's iconic design, which gives the feeling of stepping into a stylish hotel or lounge," says President and CEO of iPic Entertainment Hamid Hashemi. "Los Angeles is the movie capital of the world, and we are thrilled to bring the iPic Experience to the home of the film industry." 
iPic Theaters in Westwood will enable guests to enjoy a movie in ultimate comfort and style while offering many options to select from to tailor their experience. Guests will have the choice between Premium and Premium Plus seating and a diverse, locally-sourced gourmet menu designed by the renowned chef Sherry Yard, who serves as Corporate Vice President of Culinary Direction.
Under Yard's direction, guests will enjoy a gourmet menu featuring items that are conducive to in-cinema dining with a high level of culinary craft, such as Salmon Tartar Cones, and Lobster Roll. On the sweeter side, iPic Westwood will feature curated concessions offerings showcasing Yard's take on classic favorites along with selections from local artisans, such as locally made caramels and toffee. From Yard's own Helms Bakery, guests can expect treats such as Chocolate Chip Toffee Coffee Cookies, Triple Gingerbread Cookies, Apple Caramel Ice Cream Cups with Almond Streusel, and Creme Fraiche Rhubarb Pops.
A full-service bar will offer an exclusive selection of hand-crafted cocktails presented by award-winning mixologist and master sommelier Adam Seger, featuring a locally-driven fresh produce and herbs-centric menu focusing on house made syrups, bitters, and infusions. Seger's creations include such refreshing and complex flavor profiles as The Norma Jean made with Marilyn Monroe vodka and from scratch strawberry lemonade, and Seger's take on a classic Old Fashioned made with Black Walnut-infused rye, fig syrup, and house made orange bitters.
Premium seating ticketholders will relax in large, plush leather seats and may purchase their food and beverage direct from Tanzy Express and carry it into the theater to enjoy at their seats. Premium Plus seating features reclining, oversized leather chairs, popcorn, pillows and blankets, as well as individual service-call buttons that summon ninja-like servers to deliver signature dishes or hand-crafted cocktails. iPic Westwood will also include the artisanal Italian dining concept, Tanzy.
iPic Theaters in Westwood will comprise six auditoriums with seating between 44 and 108 people and offering 4K Digital Projection with Dolby 7.1 Channel sound systems. All seats can be reserved ahead of time via iPic's proprietary reservation system on www.ipic.com, or moviegoers can simply download the iPic App to their iPhones for a hassle-free, one-step transaction process. An exclusive membership program offers iPic guests discounted pricing, priority notification of tickets available for sale to blockbuster movies, access to exclusive movie screenings and the ability to earn points toward iPic Member Reward programs. For more information on becoming an iPic member, please visit www.ipictheaters.com/become-a-member.aspx
For more information on iPic Theaters, please visit www.ipic.com. Follow us on Facebook at www.facebook.com/ipictheaters and Twitter at www.twitter.com/ipictheaters.