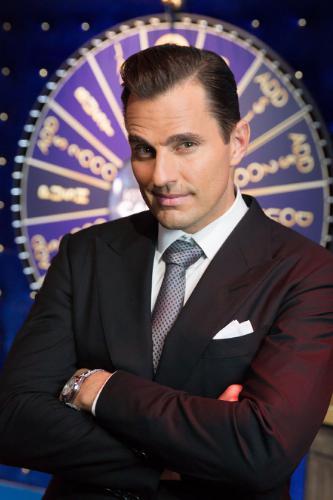 Food Network's new competition series Kitchen Casino hosted by Bill Rancic and premiering tomorrow Monday, April 7th at 9pm ET/PT brings together four talented chefs in a high-stakes game of chance that requires skill, speed and adaptability.  In each episode, four competitors would be wise to keep one eye on the ticking clock while they attempt to out-cook and out-smart their competition during three casino-themed cooking challenges – slots, poker and roulette – for a chance to win the $30,000 jackpot.  The chefs must be at the top of their game throughout the three rounds to handle whatever Lady Luck deals them, and they must double-down on their skills or risk being 86'd.  Each episode features a panel of rotating judges including Michael Chernow, Madison Cowan, Danyelle Freedman, Gavin Kaysen, Aliya Leekong and Kristin Sollenne.
"These competing chefs need strong culinary talents and cunning strategy to win these high-stakes challenges,  making Kitchen Casino exhilarating to watch," said Bob Tuschman, General Manager and Senior Vice President, Food Network. "On Kitchen Casino anything can happen when amazing chefs roll the dice."
In each episode, the competing chefs must hold their own as they navigate through three grueling rounds of the casino-style, culinary competition.  Round one features the Kitchen Casino Slot Machine.  The chefs take a spin and reveal three categories – cuisine, ingredient and theme – which must inspire their dish for the 30 minute round. In round two, remaining three contestants have 40 minutes to prepare a dish using the same assigned protein from the previous round – but with a game changing twist.  During this round the kitchen stations spin like a roulette wheel leaving the chefs in front of a new station to continue cooking.  The wheel turns unexpectedly and the chefs are judged by the dish that ends up in front of them at the end of the round.  The final round is a game of Chef Poker. The remaining two contestants try their hand at incorporating an ingredient into their dish depending on the card they are dealt.  Will they hold their hand or take a gamble? Their decision could make or break their dish and their chance at winning the jackpot.