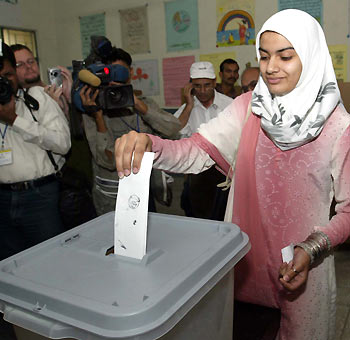 Although Taliban threats attempted to disrupt the historic presidential elections in Taliban, Afghan voters still came out to vote in large numbers. There was heavy security on Saturday in the capital of Kabul to ensure a peaceful voting process. Luckily, there were no major attacks in the capital.
The presidential candidates are: Ashraf Ghani, who earned his doctorate at Columbia University in the U.S. and Abdul Rashid Dostum, a leader of the Uzbek ethnic group. The other frontrunner is Dr. Abdullah Abdullah.
According to current President Hamid Karzai, the leader stressed that previous terrorist attacks cannot stop Afghan people from exercising their constitutional right to choose their future political leadership and can not stop the millions who will go to ballot boxes to cast their votes in presidential and provincial council elections.
President Karzai further stressed that the elections will be held on its due date and no enemies of peace and Afghanistan's stability can stop Afghans from taking part in the national democratic exercise.