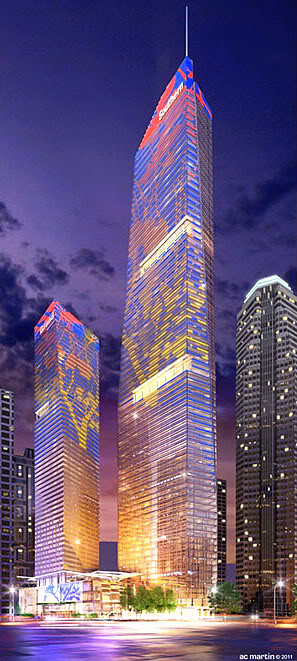 Rare does building construction make front page news, but the Wilshire Grand is an entirely different story making headlines across California. Back in February, the design of the Wilshire Grand was unveiled by developer Korean Air, Martin Project Management, elected officials and local leaders. Later that month the "grand pour"of tons of concrete laid down the tower's foundation. According to the LA Times, over the next three years, workers will raise the New Wilshire Grand tower 1,100 feet above the corner of Figueroa Street and Wilshire Boulevard. So what will the building be exactly? Both a hotel and office space…
Rising 73 stories above downtown, the Wilshire Grand will be the tallest structure west of the Mississippi.
The first building in L.A. and one of the first in the country to have a true sky lobby. Visitors will rise to the top floor lobby and be greeted with unparalleled views of the city and a breathtaking infinity pool.
The new Wilshire Grand will feature a domed top. It is the first building of any height in Downtown since L.A. City Hall to be constructed without a flat roof.
900 state-of-the-art four-star hotel rooms operated by a flagship luxury hotel brand will be the standard bearer for elite travel accommodations in L.A. complemented with world-class dining, the new Wilshire Grand will be the place to be in the city. 
Ballrooms, which typically are built without windows, will feature glass windows that open to floral gardens