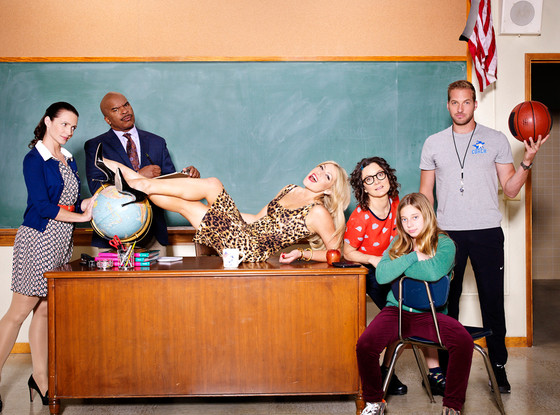 Will CBS have a hit with "Bad Teacher?" The comedy premieres tonight, Thursday April 24th at 9:30/8:30c. Starring Ari Graynor (Meredith Davis), Kristin Davis (Ginny), David Alan Grier (Principal Carl Gaines), Sara Gilbert (Irene), Ryan Hansen (Joel) and Sara Rodier (Lily).
Based on the hit feature film about an always inappropriate, fearless and unapologetic former trophy wife who masquerades as a teacher in order to find a new man after her wealthy husband leaves her penniless. Dumped, divorced and broke due to a bad pre-nup, Meredith Davis is inspired by her friend's smart, awkward stepdaughter, Lily, to devise the perfect three-step plan: 1) Pose as a teacher at Lily's ritzy middle school; 2) Meet and marry a rich single dad; 3) Return to a lavish lifestyle. Using a phony resume, quick-thinking Meredith effortlessly charms Principal Carl Gaines, who is easily duped and oblivious to her agenda. 
The faculty includes Joel, her handsome former high school classmate-turned-gym teacher, who sees right through her, but is amused by her antics; Irene, a shy, introverted teacher who's overly excited at the possibility of making a best friend; and Ginny, the up-tight faculty president and busybody who resents Meredith and suspects something's fishy.  Meredith may be the worst teacher ever, but she's the only one qualified to impart much-needed life lessons to Lily and her friends, while she keeps an eye out for husband #2.
The show will continue to air on Thursdays (9:31-10:01 PM, ET/PT)