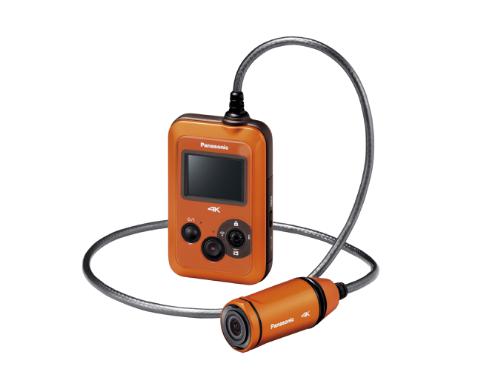 Does Panasonic have the competitor to the Go Pro camera? They just announced the world's first 4K/30p Wearable Camera, the HX-A500 (A500). Featuring Wi-Fi® and NFC to connect to your phone, incredible image quality and straightforward functionality, this wearable camera enables you to capture scenes that puts viewers right there, in the thick of the action. The A500 will be available in the U.S. at the beginning of July at www.shop.panasonic.com and photo specialty retailers. 
The main unit is separate from the lens unit, meaning you can mount the lens at face level and perform hands-free shooting. Small and lightweight, the lens unit is comfortable to wear, making it easy to capture point of view sports or your daily adventure.
1. Separate units enable more comfortable head mounting
The main unit is separate from the camera. Hands-free operation lets you to capture everyday adventures to extreme sports.
●Compact lightweight camera unit
The lens unit weighs just over one ounce. It's so light that you are likely to forget it's mounted, even after extended use.
●New head mount and armband case
The head mount is supported in three places: at both ears and at the back of the head. This increases support and makes wearing the camera feel more comfortable and natural. The armband-style case is durable, and the flip-top design makes it easier to put in and take out the main unit.
●Even more complete line up of accessories
A wide variety of optional accessories — a new clip mount, multi belt, and multi case — help you get the most out of the A500. Different mounts enable easy shooting in different situations allowing you more flexibility.
●Waterproof and dustproof
Waterproof for 30 minutes in nearly 10 feet of water*, dustproof **,the A500 lets you actively shoot video in all kinds of sports and leisure situations without a housing.
2. Shoot 4K/30p video: highest available resolution for a Wearable Camera
With 4K video, you get four times the resolution of Full HD. The new Lens, sensor and image engine also achieve greater sensitivity, enabling you to shoot beautiful high resolution video.
●Recording 4K at 30 fpsensures smooth motion
Since every detail of the image is crisp and clear, you can display beautifully realistic video on large screens. Meanwhile, with a worlds' first 30 frame per-second for a wearable camera, on-screen motion is smooth.
3. Enhanced Picture Quality
●Ultra Wide Angle
HX-A500 can shoot up to max. 160 degree ultra wide angle for an immersive view.
●Excellent low-light performance: 1/2.3-inch BSI sensor
A BSI sensor delivers excellent images. Shooting with higher sensitivity, you see less noise in images shot indoors, at night, or in dimly lit conditions: you simply get better results.
●Image engine provides superb image quality
Crystal Engine Pro+ provides outstanding image processing. It has exceptional capabilities for handling super-resolution video. You can use this processing power to shoot superb quality 4K videos.
●Tilt correction and image stabilization make fast action easier to watch
Available with full HD in standard resolution, exclusive Level Shot and Image Stabilizer functions allow you to capture easily watchable fast action sequences.
●Slow motion video
You can shoot at high frame rates in three resolutions: 1920 × 1080 pixels at 60 fps; 1280 × 720 pixels at 120 fps; and 848 × 480 pixels at 240 fps. You can then play back the video in slow motion, either for effect or to check out a golf swing or the form of another fast action.
4.Easy to use: simply shoot and share
Using the color LCD on the main unit, the operation is effortless. Also via a smartphone or tablet, you can also easily upload and share videos on the internet right on the spot.
●Color LCD panel
The main unit is equipped with a 1.5-inch color LCD. Instantly, you can check the field of view and mode settings.
●Connect with NFC compatible Wi-Fi®
If your smartphone has NFC capabilities, all you need to do to enable Wi-Fi® is to contact the control unit and the phone.
●Create Highlights and Easy-Share
With an Image App, highlighted scenes can be easily edited in one clip and uploaded to internet after shooting with automatic selection of highlighted scenes.
● Real-time Broadcasting
Via USTREAM, distant family members can get a live view of important family events.
To learn more about Panasonic's line of LUMIX Digital Cameras and other consumer electronic products please visit www.shop.panasonic.com.