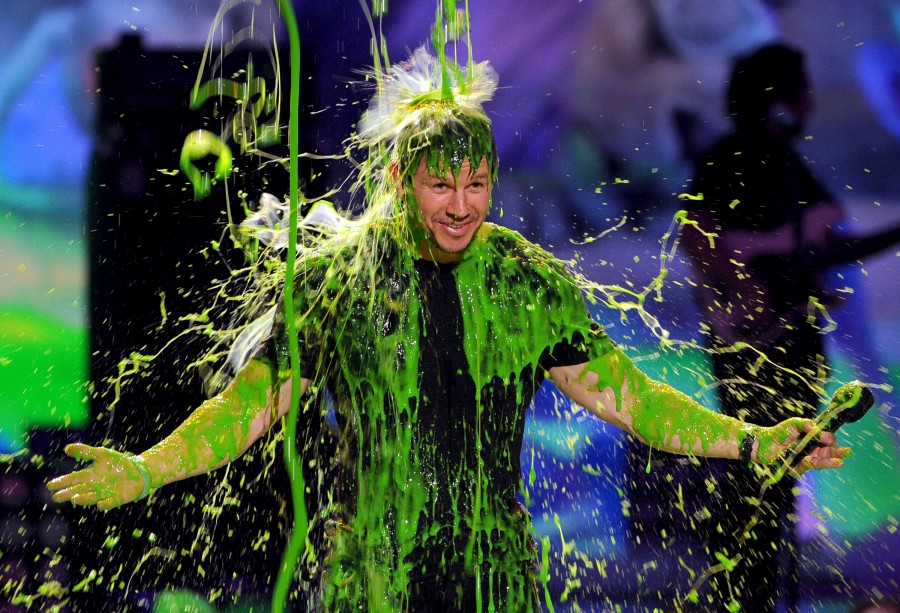 Photo Courtesy of Nick Press
No one is unslimeable, as the Nickelodeon's 27th Annual Kids' Choice Awards proved on Saturday, March 29th. Superstars including Jennifer Lawrence, Robert Downey Jr., One Direction, Sam & Cat, Selena Gomez, Kevin Hart, Patrick Star, Dwight Howard and more, won top honors and… Ultimately, not even Optimus Prime could save host, Mark Wahlberg from the massive green drenching delivered by none other than Kevin Hart and the host's own kids. 
This year's KCAs featured a new design – dual stages,a 360 degree mosh pit, a slime fountain delivering winner envelopes and a slime river snaking throughout the venue. Kicking off the star-studded celebration was internet sensation Todrick Hall with a pop performance medley featuring celeb cameos by Pharrell Williams, Austin Mahone and Cody Simpson, along with aerialists, cheerleaders and a step team.  Celebrated magician David Blaine made his live awards show debut tonight by facing his greatest challenge ever – slime – in an unforgettable moment that literally knocked his head off.
Top-selling recording artist Aloe Blacc took the stage with a medley of his hit songs, "Wake Me Up" and newest single "The Man," while Brooklyn-based rock group American Authors closed the night with a multi-colored neon slime-filled performance of their #1 smash, "Best Day of My Life."
And the winners are….
 
Favorite TV Show
Sam & Cat
 
Favorite Reality Show
Wipeout
 
Favorite Cartoon
SpongeBob SquarePants
 
Favorite TV Actor
Ross Lynch (Austin & Ally)
 
Favorite TV Actress
Ariana Grande (Sam & Cat)
 
 
FILM:
 
Favorite Movie
The Hunger Games: Catching Fire
 
Favorite Movie Actor
Adam Sandler (Grown Ups 2)
 
Favorite Movie Actress
Jennifer Lawrence (The Hunger Games: Catching Fire)
 
Favorite Animated Movie
Frozen
 
Favorite Voice from an Animated Movie
Miranda Cosgrove (Despicable Me 2)
 
Favorite Male Buttkicker
Robert Downey Jr. (Iron Man 3)
 
Favorite Female Buttkicker
Jennifer Lawrence (The Hunger Games: Catching Fire)
 
 
MUSIC:
 
Favorite Music Group
One Direction
 
Favorite Male Singer
Justin Timberlake
 
Favorite Female Singer
Selena Gomez
 
Favorite Song
"Story of My Life" (One Direction)
 
 
OTHER CATEGORIES:
 
Favorite Book
Diary of a Wimpy Kid series
 
Favorite Videogame
Just Dance 2014
 
Favorite App Game
Despicable Me: Minion Rush
 
Favorite Funny Star
Kevin Hart
 
Favorite Animated Animal Sidekick
Patrick Star (SpongeBob SquarePants)
 
Most Enthusiastic Athlete
Dwight Howard