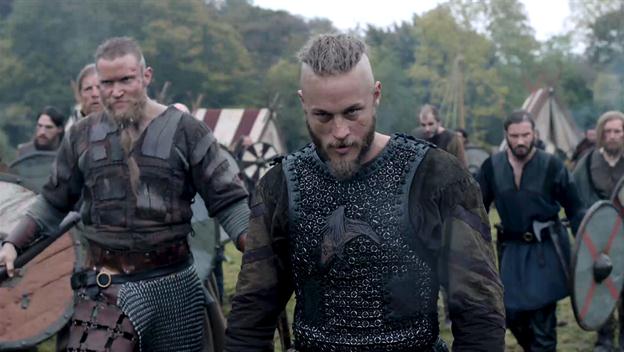 HISTORY® has picked up a 10 episode third season of the acclaimed hit drama series, VIKINGS. Created and written by Michael Hirst, the renewal comes just four episodes into VIKINGS' second season. Six new episodes remain in the current season airing Thursdays at 10 p.m. with the season finale slated for Thursday, May 1 at 10 p.m. Catch our season one sit-down with Vikings actor, George Blagden HERE.
VIKINGS season two has propelled HISTORY to #1 in cable in its Thursday 10-11 p.m. time slot. The hit scripted series is off to a strong start in season two currently averaging 3.4 million total viewers, 1.7 million Adults 25-54 and 1.5 million Adults 18-49. In addition, after the first two episodes, VIKINGS gained a +51% lift in Live+7 vs. Live+Same Day averaging 5.1 million total viewers and +60% growth in Adults 25-54 (2.7 million) and Adults 18-49 (2.5 million).
VIKINGS centers on Ragnar (Travis Fimmel), a restless young warrior and family man who longs to find and conquer new lands across the sea and claim the spoils as his own. Now he is an Earl, with more power than ever before, his desire to sail west and explore new kingdoms remains unquenchable.
Production on season three will begin this summer to air in 2015.