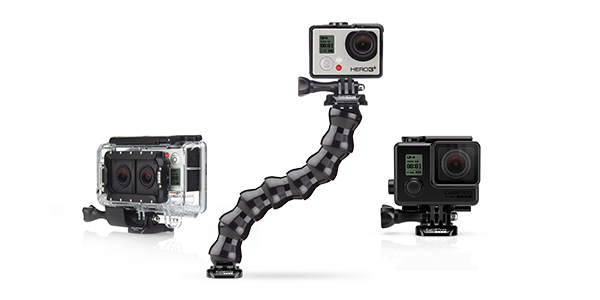 GoPro has a new line of accessories and software designed to provide users with new ways to capture more unique shots and easily edit and share video and images. GoPro has also released a series of new tips and tricks videos via its YouTube tutorial page to support the product introductions and help users more quickly understand and adopt the new hardware and software.
GoPro HERO3+ and HERO3 users will benefit from a number of new housing and mount options including a matte-finish housing, compact frame and versatile flex mount. The stealth Blackout Housing($49.99) delivers the ultimate in low profile shooting, featuring a non-reflective black matte finish and LCD concealment stickers to ensure low visibility and eliminate light reflections.
The new housing is perfect for the sportsman, tactical, professional or any user who wants a covert look for their HERO3+ or HERO3. Two additional accessories, Gooseneck and The Frame, are designed for maximum ease of use and greater versatility in shooting.  Gooseneck ($19.99) boasts a seven-link flex neck and quick-release base plate for capturing hard to reach shots around corners or underneath objects. The reengineered Frame ($39.99) is the smallest, lightest way to mount the HERO3+ and HERO3 camera, featuring full-time access to all camera ports for convenient data offload, live-feed video and charging, an integrated latch to make securing and removing the camera quicker and easier, and a compact mounting design that allows for optimal audio recording.