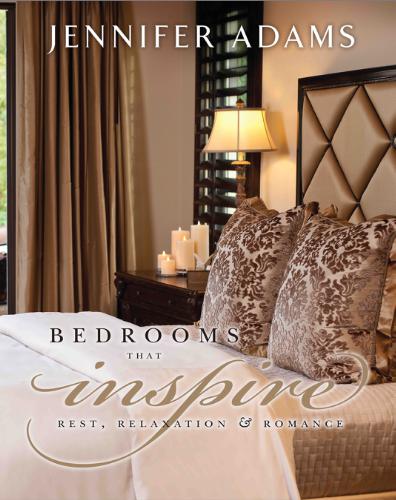 From making beds as a teenage housekeeper to running a multi-million dollar business of home related products and apparel, Celebrity Interior Designer Jennifer Adams can now add author to her list of accolades. Her new book, Bedrooms That Inspire: Rest, Relaxation, & Romance debuts this month. Published by Dalton & McClintock Publishing, Bedrooms will be on sale at Costco Warehouses, Amazon.com, select bookstores and JenniferAdams.com. 
Released during Sleep Awareness Month when the nation switches over to Daylight Savings Time, this gorgeous coffee table book is filled with beautiful bedroom photos and quick tips for getting a better night's sleep. With over 50 million Americans suffering from insomnia and various sleep issues, Jennifer Adams addresses how to create the ideal sleep environment.
Jennifer, who has designed for resorts, hotels, and residential homes, understands what it takes to create an inviting, comfortable and restful environment. With chapters dedicated to decorating children's bedrooms to personalizing your own bedroom, romantic retreats and everything you need to know about the dos and don'ts of bedrooms. This coffee table book is an entertaining, visually appetizing, and educational book for everyone to enjoy.
"Choosing what to put into your bedroom is as important as what to leave out, and I will help you make all those decisions. I think you'll enjoy your new bedroom and you should be a lot healthier and happier for it. Just as I love coming home, I truly hope that you will too," said Jennifer Adams.