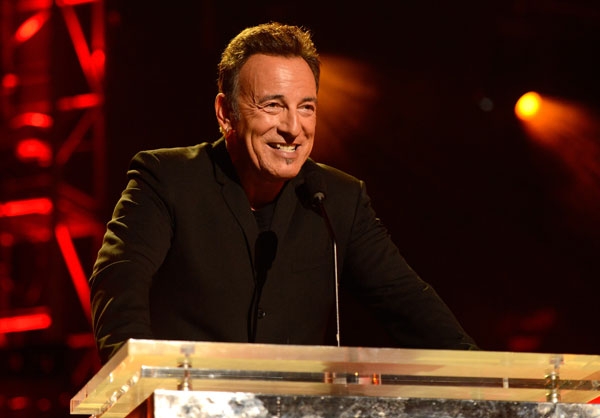 AXS TV presents the exclusive premiere of the 2013 MusiCares® gala, honoring the legendary Bruce Springsteen, tonight Sunday, March 30, at 8pE/5pP. Filmed live at the Los Angeles Convention Center on Friday, February 8, 2013, the once in a lifetime event—hosted by "The Daily Show" star Jon Stewart—celebrates Springsteen's career, while raising funds and awareness for the invaluable programs and services that the MusiCares Foundation® provides to music people in need.
The concert features performances from the industry's biggest names who perform the Boss' biggest hits. Highlights include Alabama Shakes with a fierce rendition of "Adam Raised a Cain"; Elton John on "Streets of Philadelphia"; John Legend with a piano-driven arrangement of "Dancing in the Dark"; country favorites Tim McGraw and Faith Hill on "Tougher Than the Rest"; Mumford & Sons with "I'm On Fire"; Rage Against the Machine axe man Tom Morello and My Morning Jacket's Jim James on "The Ghost of Tom Joad"; Patti Smith playing her Springsteen partnership "Because the Night"; Sting with "Lonesome Day"; Neil Young with the rousing "Born in the U.S.A."; Zac Brown Band and gospel mainstay Mavis Staples with "My City of Ruins"; and more.
The guest of honor himself, Bruce Springsteen, closes out the night with the E Street Band, summoning the crowd of 3,000 onto their feet and up to the front of the stage, as he blazes through catalogue classics "We Take Care of Our Own," "Death to My Hometown," "Thunder Road," and "Born to Run," before inviting the night's performers back on stage to join in on an epic collaboration of "Glory Days."
Established by The Recording Academy® more than 20 years ago, the MusiCares Foundation provides aid for members of the music industry in financial, personal, or medical crisis, with a focus on human service issues. Available programs include emergency financial assistance, addiction recovery, outreach and leadership activities, and senior housing.  The MusiCares Person of the Year tribute to Bruce Springsteen raised almost $6.7 million dollars for the charity, through table, ticket and tribute journal ad sales, outside contributions, and silent and live auctions.
"MusiCares 2013 is a perfect fit for our programming, as AXS TV strives to deliver the best, and most unique, concert experiences to our audience," said AXS TV Founder Mark Cuban. "This event is truly inspiring—not just because we get to see these talented acts come together to honor an icon, but because it shows the music community, as a whole, coming together to aid and honor their own by helping to benefit this incredibly worthwhile organization."