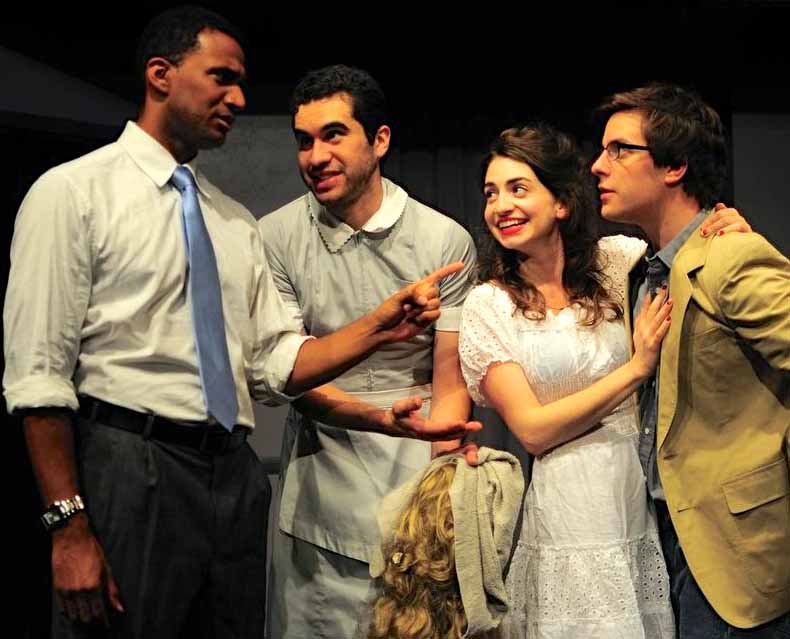 Contrary to popular belief, Los Angeles has a great theatre scene – from black box plays to the grand Pantages. Our most recent venture off the studio lot and into the playhouse was at ACME COMEDY for the political musical parody, "Obama Spy Drama." With quick-witted writing and a high-octane cast, OSD is the perfect nighttime outing for Angelenos in need of a comic escape.
Written by Nicholas Zill, who is no stranger to Obama'esque satire, the story follows eccentric and wacky versions of President Obama, Vladimir Putin and Edward Snowden. There is one mission: to convince NSA traitor, Snowden to return to the United States via the alluring Dania Suarez (aka Secret Service call woman) and a bottle of pheromone love potion. The secret service adventure turns into a whirlwind of hilarity and unexpected romances.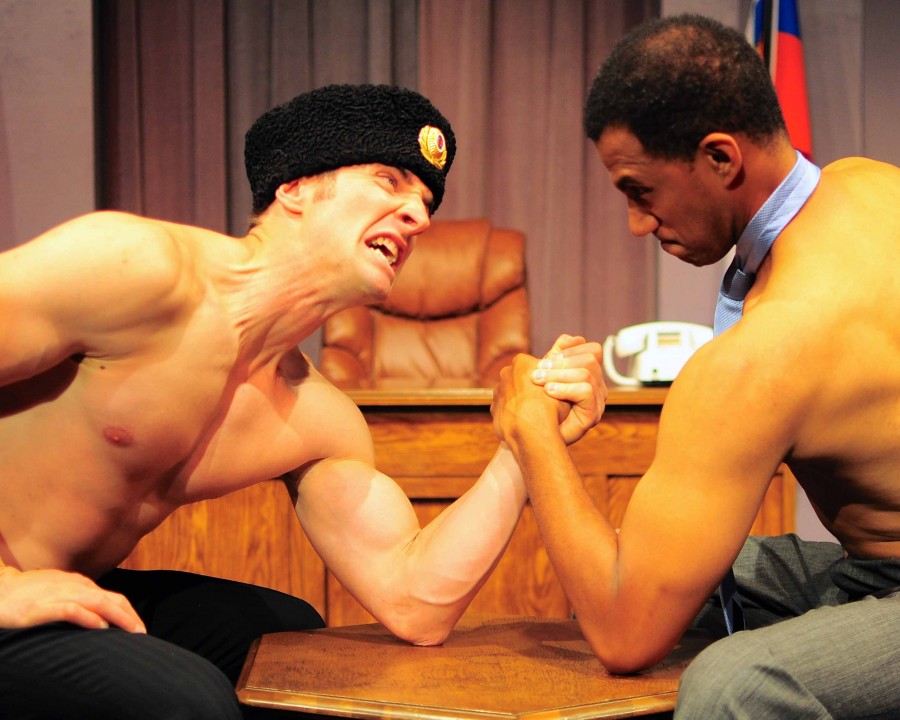 Directed by Caitlin Hart, the show was well supported by a talented ensemble cast. Close your eyes and you're sure that Obama is in the room, but that's just actor Matthew Harris' brilliant impersonation. Dan Amerman was perfectly cast as Edward Snowden and carried the musical numbers with some of the strongest vocals. The comical show-stopper was Christopher Robert Smith, who portrayed the out-to-lunch VP Joe Biden and Russian President Vladimir Putin. Never a dull moment, from his Russian jig dance break to his egocentric solo numbers.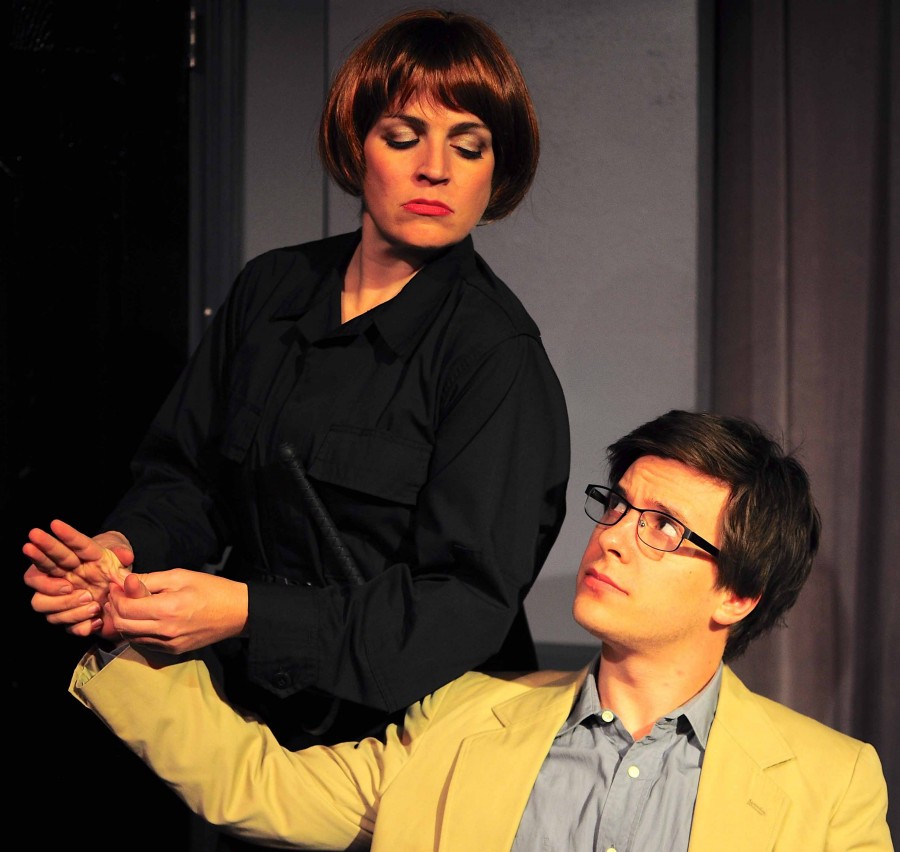 Natascha Corrigan's facial expressions were priceless as the rough and tough Russian agent and right arm to Putin. As the 'black Russian' agent who attempts to steal Obama's identity, Max Lawrence is a pleasure to watch and, of course… laugh at. Beth Triffon has the audience in stitches as the sterotypical Latina lover lady to Snowden. Arielle Siler is a fine Michelle Obama and Guillermo Lozana steals laughs for his role as Obama's spy. 
Although it is not a dance-heavy musical, the choreography by Kara Karstedt was highly entertaining and well done. As far as music is concerned, Zill created smart lyrics with melody covers of songs such as "Maria" from West Side Story. Zill and his writing team for dialogue, Derek Jeremiah Reid and Karen Zill wrote a smart script with plenty of hilarious pop culture references.

Set your weekend plans to see "Obama Spy Drama."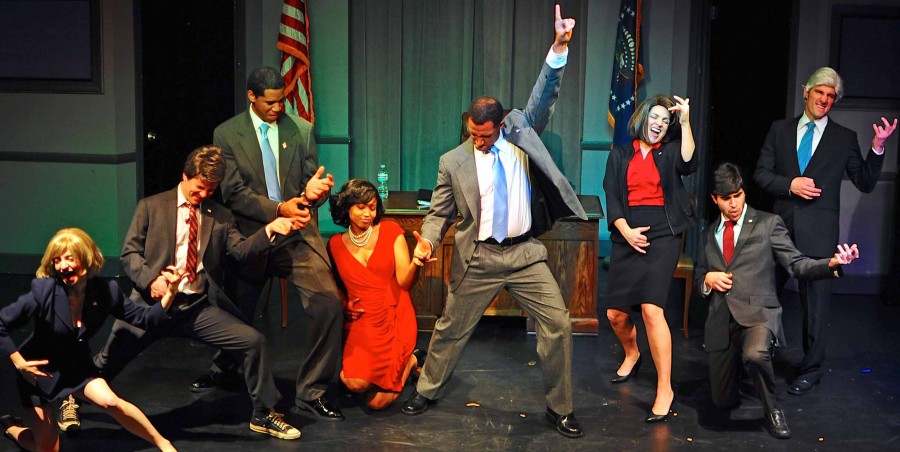 Music (pre-recorded) is provided by the Rock 'n' Ridicule band: Gene Black (guitar, mandolin), Skip Edwards (keyboard), Jerry Sommers (drums), Chuck Wright (bass).
The show runs through March 30th. Regular show times: Fri. & Sat. at 8:00, Sun. at 3:00. Advance tickets are available online, $20 and $23. $23 ticket includes 20% discount at Amalfi Ristorante (next door). Tickets at the door: $30 (no Amalfi discount).
RESERVATIONS: (626) 274-1745.
ONLINE TICKETING: www.acmecomedy.com
By P.P.

Photo Courtesy of Kate Hagerty