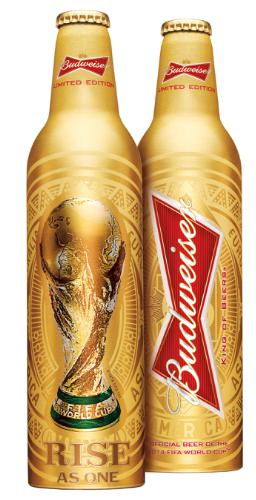 With anticipation growing across the globe for the upcoming 2014 FIFA World Cup Brazil™, Budweiser revealed Rise As One, the brand's global creative campaign on behalf of its sponsorship of the upcoming tournament.
As the official beer sponsor of the 2014 FIFA World Cup Brazil™, Budweiser has designed a holistic creative platform under the Rise As One thematic, which will serve to celebrate the moments that unite and inspire fans of the beautiful game around the world. 
"While football brings out regional pride and fierce rivalries, it also brings fans across the globe together once every four years through shared passion," said Andrew Sneyd, Global Vice President, Budweiser. "With the Rise As One campaign, Budweiser celebrates the world's favorite game and its role in inspiring fans to celebrate the moments that unite us as a global community."
Budweiser is present in over 80 countries around the world, and Rise As One will have truly global reach as markets around the world bring it to life through a unified platform including new television and out-of-home advertising, as well as customized local market activations and initiatives to engage fans in-store, online and across social channels. Additionally, Budweiser will develop and distribute global broadcast and digital FIFA World Cup™ related content through strategic media partnerships, the details of which will be revealed in the coming weeks.
Budweiser's Rise As One campaign will be unveiled to a national audience with the first of multiple new TV spots breaking online on March 5, 2014 and supported by impactful out-of-home content, which will showcase the passion of fans across the world as they come together to celebrate the tournament.