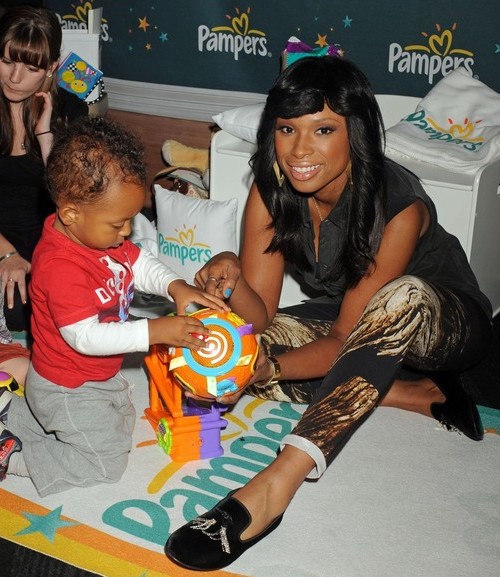 The People's Choice Awards announced today that platinum-selling, Grammy Award-winning artist and Academy Award winner Jennifer Hudson will receive the second annual People's Choice Award for "Favorite Humanitarian," presented by Walgreens, during the telecast of THE 40TH ANNUAL PEOPLE'S CHOICE AWARDS, live from the Nokia Theater L.A. Live on Wednesday, Jan. 8 (9:00-11:00 PM, ET/delayed PT) on the CBS Television Network.
 
Hudson was chosen as this year's recipient in recognition of her work with the Julian D. King Gift Foundation, an organization she formed in 2009 with her sister, Julia Hudson, in honor of their nephew, Julian King. The foundation works to provide stability and positive experiences for children of all backgrounds so that they may grow to become productive, confident and happy adults, able to be positive influences on their communities.
 
"Thank you for honoring me with the Favorite Humanitarian Award. My sister Julia and I were raised with the belief that helping others was always very important. I am so grateful that the People's Choice Awards and Walgreens have come together in the same spirit. This spotlight will provide us with the opportunity to share all the amazing work being done by the Julian D. King Gift Foundation for children in the city of Chicago and around the United States," stated Hudson.
 
Walgreens, the official retail sponsor of THE 40TH ANNUAL PEOPLE'S CHOICE AWARDS, is once again presenting the award for Favorite Humanitarian in conjunction with the company's purpose to help people get, stay and live well. In recognition of Jennifer Hudson's contributions that positively impact the community, Walgreens will donate $100,000 to the Julian D. King Foundation.  Also, starting tomorrow evening, consumers can help increase the donation amount by up to an additional $100,000 by clicking the People's Choice Awards icon within the Walgreens mobile app.