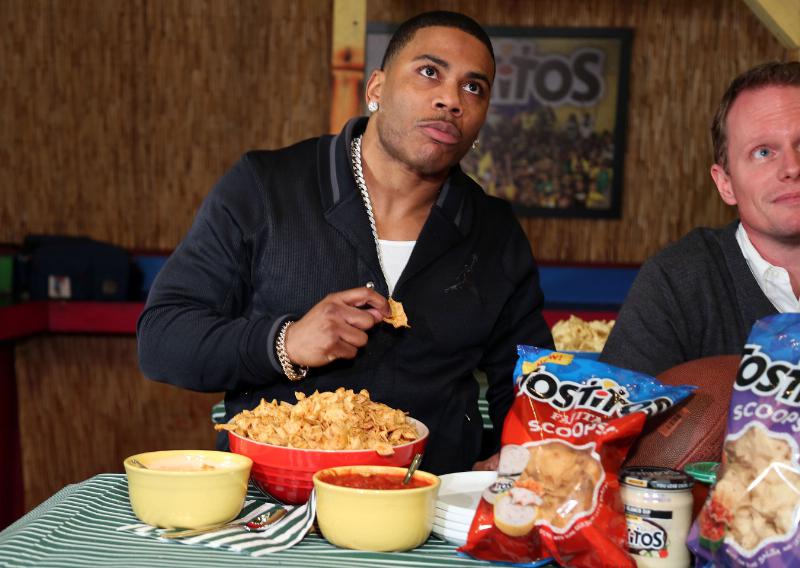 With the match-ups decided and excitement around college football surging, Tostitos – the brand known for making life a party – is getting the 2014 Fiesta Bowl festivities started early this year. Together with hip hop music icon and former high school football standout Nelly, the Tostitos brand is sharing ultimate party must-haves to get fans amped up for game day.  The 2014 Tostitos Fiesta Bowl is set to air at 8:30 p.m. ET on New Year's Dayon ESPN. Tostitos, one of the flagship brands from PepsiCo's Frito-Lay division, has been the title sponsor of the Fiesta Bowl – part of the Bowl Championship Series – for the past 19 years.
"Now we know who's playin' in the 2014 Tostitos Fiesta Bowl, it's time to get ready to party," said Nelly.  "A great game day party must have three key things, great beats, cool people and the right food, which for me is Tostitos tortilla chips and dips."
Nelly's Tostitos Fiesta Bowl "Must-Haves"
Great Beats: You need to have the right music to get everyone pumped up before the game. Game day is about having fun and you want music that gets everyone feeling energized.
Cool People: It may seem obvious, but you need the right mix of people for an unforgettable party; people who are fun and appreciate great football.  Being around die-hard fans that can break down the plays is always a plus.
Good Food: Everyone knows a great party needs great food, period. Chips and dips are party essentials – they're the kind of crowd-pleasing snacks that taste great, don't require a lot of effort and kick the party up a notch.
Grammy Award-winning and multi-platinum hip hop recording artist and actor, Nelly, began his music career with St. Louis hip hop group the St. Lunatics in 1993 and was signed to Universal Records in 1999.  With a hit single "Where the Party At" and others, his music is known for creating the perfect party atmosphere.  This past April, Nelly released a remix of the country song "Cruise" with duo Florida Georgia Line, which became No. 1 on the charts and has sold more than 1.6 million copies. As an actor, he held a breakthrough supporting role in the 2004 remake film "The Longest Yard" and is known to be an avid football fan, having played football in high school.
New Tostitos Products to Amp up Any Party
To give fans even more great-tasting varieties to enjoy on game day, the Tostitos brand is also rolling out new Tostitos Fajita flavored Scoops! tortilla chips and Tostitos Queso Blanco dip, available nationwide starting this month. Made for dipping, Tostitos Fajita flavored Scoops! tortilla chips offer a spicy twist on the bite-sized bowl-shaped tortilla chip and deliver the great taste of red bell peppers baked right into the dough before cooking. They pair perfectly with the new Tostitos Queso Blanco dip, which incorporates a creamy blend of Monterey jack and cheddar cheese along with bell peppers and jalapenos.
"Whether it's at home or at the stadium, our new Fajita flavored Scoops! tortilla chips and Queso Blanco dip are perfect for spicing up bowl game tailgates and get-togethers," said Christina Menendez, senior director of marketing, Frito-Lay North America.  "These delicious new snacks offer the perfect combination of flavor and fun, adding extra sizzle to the party experience."
For more information, visit the Tostitos brand on Facebook at Facebook.com/Tostitos.