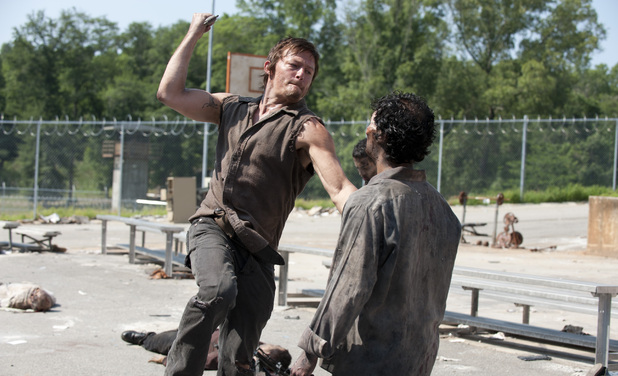 The mid-season finale of AMC's The Walking Dead capped the first half of season four and posted gains of 29% over the first half of season 3, running against NFL football, broadcast sweeps and high-profile special events. Last night's explosive episode delivered 12.1 million viewers and 7.7 million adults 18-49. The show will return for the second half of its fourth season at 9 p.m. on Sunday, February 9, followed by a new episode of Talking Dead at 10 p.m. Comic Book Men, which has been delivering 1 million viewers at midnight consistently across the first half of its third season, will also return to AMC on Sunday, February 9.
The Walking Dead continues to be the #1 show on all of television among the coveted 18-49 demographic and remains the highest-rated series in the history of cable television. The first eight episodes of its fourth season delivered an average of 13 million viewers and 8.4 million adults 18-49.
"We couldn't be happier that audiences are continuing to respond in ever-larger numbers to the outstanding work of this amazingly talented team," said Charlie Collier, AMC's president. "We're only at the mid-point of this fourth season, but I know I speak for the entire cast and crew in Atlanta when I say thank you to the fans for joining in our passion for these characters and their journey."
Now in its third season, The Walking Dead aftershow, Talking Dead, also is seeing strong gains in viewership. The mid-season finale of Talking Dead delivered a record 6 million viewers, including 3.8 million adults 18-49. For the first eight episodes of this season, airing at 10 p.m., Talking Dead is averaging 4.5 million viewers and 3 million adults 18-49. Up +128% in viewers over the first half of season two (when it aired at 11 p.m.), and up +120% among adults 18-49. Hosted by Chris Hardwick, Talking Dead features Hardwick and fans, actors, producers and other TV enthusiasts discussing and dissecting that night's Dead premiere. The mid-season finale episode featured cast members Scott Wilson (Hershel Greene), Lauren Cohan (Maggie Greene) and Robert Kirkman, executive producer of the show and creator and writer of The Walking Dead comic book.