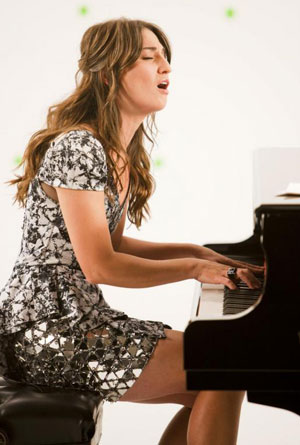 Multiple Grammy Award-nominated singer/songwriter Sara Bareilles will perform live at THE 40th ANNUAL PEOPLE'S CHOICE AWARDS, from Nokia Theatre L.A. Live on Wednesday, Jan. 8, 2014, (9:00-11:00 PM, ET/delayed PT) on the CBS Television Network.
 
"So happy to be able to perform 'Brave' on the People's Choice Awards," said Bareilles. "I've always loved watching the show and am excited to be a part of it."
 
Sara Bareilles first achieved mainstream critical praise in 2007 with her widely successful hit, "Love Song," which reached #1 in 22 countries around the world from her debut album Little Voice.  Since then, the Eureka, Calif. native has gone on to sell more than one million copies of her debut album which earned her three Grammy nominations. Bareilles' sophomore release, Kaleidoscope Heart (September 2010), debuted at #1 on the Billboard top 200 chart and garnered critical praise. The album yielded the hit single "King of Anything," which earned a Grammy nomination and was certified platinum by the RIAA.  In 2011, Bareilles joined the judge's panel on "The Sing-Off."  In early 2012, Bareilles released a documentary, "A Trace of the Sun: Volunteering in Japan," which chronicled her trip to Japan, where she worked with All Hands Volunteer in the city of Ofunato after the 2011 earthquake and tsunami.  She then released her critically acclaimed Once Upon Another Time EP, which was produced by singer/songwriter Ben Folds.  Bareilles' third studio album, The Blessed Unrest (July 2013), debuted at #2 on the Billboard album chart and recently earned a Grammy nomination for Album of the Year and Best Pop Solo Performance for her song "Brave."  For more information, please visit www.sarabmusic.com.