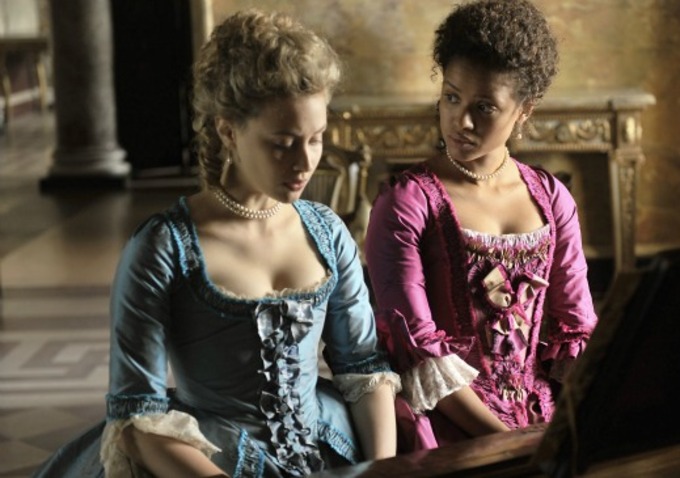 The 25th annual Palm Springs International Film Festival announces its complete line-up including Galas, Premieres and New Voices/New Visions.  The Festival will launch on Friday, January 3 with the U.S. Premiere of opening night film Belle directed by Amma Asante, and screenings playing throughout the day.  The Festival will wrap on Sunday, January 12 with Le Week-End directed by Roger Michell. 187 films from 60 countries, including 77 premieres (8 world, 22 North American and 47 U.S.), will unspool at the Festival, running from January 3-13, 2014 in Palm Springs, California.
"This year's lineup is particularly diverse in theme and content, encompassing vintage work by established directors alongside auspicious debuts by a vast number of newly emerging talents," said Festival Director Darryl Macdonald.  "The overall quality of the films vividly reflects the banner year we've seen in Cinema worldwide, with a trend towards more personal, character-driven stories that defy easy genre labels, making for a much richer, more satisfying cinematic experience."
"We launch our 25th anniversary edition with Amma Asante's entertaining and inspiring Belle and wrap with Roger Michell's enchanting tragi-comic Le Week-end (starring Lindsay Duncan and Jim Broadbent), thus illustrating the festival's commitment to celebrating the work of both emerging and seasoned filmmakers," said Artistic Director Helen du Toit.  "A further pool of exciting new talent is featured in our New Voices/New Visions showcase – which bodes extremely well for the future of international cinema.  In addition we will present an archival program of 7 audience favorites, including an outdoor screening of Cinema Paradiso. Many of our archival selections went on to win the foreign language Oscar® making our audience a harbinger of award winners and box office success."
GALAS
The Festival will open with the US premiere screening of Belle (UK), followed by a reception at the Palm Springs Art Museum.  Directed by Amma Asante, Belle is a period drama inspired by the life of Dido Elizabeth Belle, the illegitimate daughter of a Captain in the Royal Navy, stationed in the Caribbean.  The film stars Gugu Mbatha-Raw, Sarah Gadon, Tom Wilkinson, Emily Watson, Sam Reid, Tom Felton, Matthew Goode, Penelope Wilton and Miranda Richardson.  Director Asante is expected to attend the film screening.
Closing the Festival is Le Week-End (UK), directed by Roger Michell.  The film stars Jim Broadbent and Lindsay Duncan as an old married couple looking to rekindle their love affair with Paris and with one another in this spiky, self-lacerating comedy. 
NEW VOICES/NEW VISIONS
The New Voices/New Visions Award will honor one of 12 films from top emerging international directors marking their feature film debut at the Festival, with the additional criteria that the films selected are currently without US distribution.  The winner is selected by a jury of US distributors and will receive a glass sculpture designed for the Festival by renowned artist Dale Chihuly.  Films selected for this year include:
·         Above Dark Waters (Finland) – Told through the eyes of a sensitive young boy, this tragicomedy tells a touching story about growing up in southwestern Lapland in the 1970s with authenticity and hilarity.  Director: Peter Franzén.  Cast: Olavi Angervo, Samuli Edelmann, Matleena Kuusniemi, Ismo Kallio, Marja Packalén. Peter Franzen.  US Premiere. 
·         Bristel Goodman (USA) – This uniquely stylish thriller traces the story of a traumatized Iraq War veteran who meets his dream girl in an internet chat room, only to have his dream turn into a nightmare when he witnesses what appears to be her murder live online.  Director: Dan Harnden.  Cast: John Golaszewski, Natalia Volkodaeva, Kate Gorney, Ezra Saint James, Lucas Van Engen, Jessica Myhr, Joe Varca.  World Premiere.
·         Class Enemy (Slovenia) – In this compelling Slovenian drama, a group of teens blame their demanding new German teacher and his demeaning methods when one of their classmates commits suicide, and a colossal battle of wills ensues.  Director: Rok Bicek.  Cast: Igor Samobor, Nataša Barbara Gracner, Tjaša Železnik, Maša Derganc, Robert Prebil, Voranc Boh, Jan Zupancic, Daša Cupevski.  North American Premiere.
·         Everything We Loved (New Zealand) – Charlie once made a living as a traveling magician. His picture-perfect marriage and family, though, has been torn asunder by a crippling loss. What will Charlie do to save the family he loves? Behold, a grand illusion…Director: Max Currie.  Cast:  Brett Stewart, Sia Trokenheim, Ben Clarkson.  World Premiere.
·         Han Gong-ju (South Korea) – A teenager is abruptly transferred to a new school and placed in a stranger's care – for reasons too terrible to guess. An amazing first feature, it won two awards at the Busan International Film Festival.  Director: Lee Su-jin.  Cast: Chun Woo-hee, Jeong In-sun, Lee Young-ran, Kim So-young.  North America Premiere.
·         Left Foot Right Foot (Switzerland) – A pair of young hard-partying lovers are forced to grow up fast in photographer Germinal Roux's first feature, a beautiful elegy on the loss of innocence elevated by stunning black-and-white cinematography and mesmerizing music.  Director: Germinal Roaux.  Cast: Nahuel Perez Biscayart, Agathe Schlencker, Mathilde Bisson, Dimitri Stapfer, Stanislas Merhar.  US Premiere.
·         Medeas (USA) – An archetypal tale of adultery is rendered with exquisite strokes in this slow burning rural psychodrama, the first feature from an Italian-born filmmaker working in the US. "A rare piece of pure cinema." Twitch         Director: Andrea Pallaoro.  Cast: Catalina Sandino Moreno, Brian F. O'Byrne, Kevin Alejandro, Ian Nelson, Mary Mouser.  North America Premiere.
·         The Magnetic Tree (Spain) – A young man returns to Chile from Germany after many years. In a series of probing, freeform conversations, his colorful, multigenerational family explores the safety and connectedness and the feelings of confinement that come from family relationships.  Director: Isabel de Ayguavives.  Cast: Andrés Gertrúdix, Catalina Saavedra, Manuela Martelli, Gonzalo Robles, Juan Pablo Larenas, Daniel Alcaíno, Edgardo Bruna.  North America Premiere.
·         Of Horses and Men (Iceland) – This very dry, very Icelandic comedy is a north country romance about the human streak in the horse and the horse in the human.  Director: Benedikt Erlingsson.  Cast: Ingvar E. Sigurdsson, Steinn Armann Magnusson, Helgi Björnsson, Charlotte Bøving, Atli Rafn Sigurdarson, Halldora Geirhardsdottir, Kjartan Ragnarsson.  US Premiere.
·         Paris or Perish (France) -Brightly colored and vivacious, actress Reem Kherici's fast-paced, fish-out-of-water comedy sees Parisian fashion designer Maya deported back to her Moroccan home, stiletto heels in hand. Cultures clash and the jokes, many at Maya's expense, alternate with moments of genuine feeling.  Director: Reem Kherici.  Cast: Reem Kherici, Cécile Cassel, Shirley Bousquet, Tarek Boudali, Phillipe Lacheau, Salim Kechiouche, Stéphane Rousseau.  US Premiere.
·         Patch Town (Canada) – Inspired by his award-winning short film (ShortFest '12), Craig Goodwill's wildly creative feature debut is a wacky, satirical musical fantasy about a grown-up toy who must battle a villainous corporation to reunite with his long-lost mother, protect his newfound family, and finally find freedom. Director: Craig Goodwill. Cast: Rob Ramsay, Zoie Palmer, Julian Richings, Suresh John, Scott Thompson, Ken Hall.  US Premiere. 
·         Root (Chile) – A Chilean woman defies her domineering mother and drives the nine-year-old son of the deceased family maid into the country to find his long-lost father. An assured debut which applies a naturalist style to create a powerful dramatic impact.  Director: Matías Rojas Valencia.  Cast: Mercedes Mujica, Elsa Poblete, Cristóbal Ruiz, Celia Uribe, Eugenio Morales.  North America Premiere.
PREMIERES
The Festival will offer a selection of 77 premieres of highly anticipated films, showcasing the diversity of international cinema (for a list of film descriptions, please see attached):
World premieres include: 3 Nights in the Desert (USA) starring Amber Tamblyn, Wes Bentley and Vincent Piazza, Bristel Goodman (USA), Burkholder (USA), Days and Nights (USA) starring Katie Holmes, William Hurt, Jean Reno, Allison Janney, Ben Wishaw, Everything We Loved (New Zealand), Hidden Hills (USA), Lakshmi (India) and Party Central (USA) starring John Goodman, Charlie Day, Bill Crystal, Sean Hayes and David Foley.
North American premieres include: Catch the Dream (Denmark), Class Enemy (Slovenia), Grazing the Sky (Spain), Han Gong-ju (South Korea), Horses of God (Morocco), King Ordinary (Germany), Living is Easy with Eyes Closed (Spain), Magic Men (Israel), The Magnetic Tree (Spain), Medeas (USA), The Mercury Factor (Italy), Monk with a Camera (USA), Montage (South Korea), The Old Man (Kazakhstan), Open Up to Me (Finland), Rabbit Woman (Argentina), Root (Chile), The Searches (Mexico), Stalngrad (Russia), Tattoo (Brazil), Traffic Department (Poland) and Transit (Philippines).
U.S. premieres include: 15 Years and One Day (Spain), Above Dark Waters (Finland), Another House (Canada), The Auction (Canada), Bastardo (Tunisia), Belle (UK), Blind Dates (Georgia), The Butterfly's Dream (Turkey), Cupcakes (Israel), Empire of Dirt (Canada), Enemy (Canada) directed by Denis Villeneuve and starring Jake Gyllenhaal, Mélanie Laurent, Isabella Rossellini, Faith Connections (India), For No Good Reason (UK) featuring Johnny Depp, Terry Gilliam, Richard E. Grant, Gaming Instinct (Germany), Gerontophilia (Canada) directed by Bruce LaBruce, The Grand Seduction (Canada) starring Brendan Gleeson and Taylor Kitsch, Heart of a Lion (Finland), Hotell (Sweden), Hunting Elephants (Israel), I Am Yours (Norway), Ignasi M. (Spain), In Secret (USA) starring Elizabeth Olsen, Oscar Isaac, Jessica Lange, The Italian Character (Germany), Left Foot Right Foot (Switzerland), Longwave (France), Love and Lemons (Sweden), Lovers (France), Marina (Belgium), The Mute (Peru), Nightingale (France), Of Horses and Men (Iceland), One of a Kind (France), Paris or Perish (France), Patch Town (Canada), A Place in Heaven (Israel), Roa (Colombia), Salvation Army (France), Standing Aside, Watching (Greece), Stay (Canada) starring Taylor Schilling, Aidan Quinn and Brian Gleeson, The Summer of Flying Fish (Chile), Tangerines (Estonia), Those Happy Years (Italy), The Venice Syndrome (Germany), White Lies (New Zealand), Words and Pictures (USA) directed by Fred Schepisi starring Clive Owen and Juliette Binoche, Young & Beautiful (France) directed by François Ozon and Yozgat Blues (Turkey).